Trending:
Salad with liver for a light dinner: what to add to the dish for a bright taste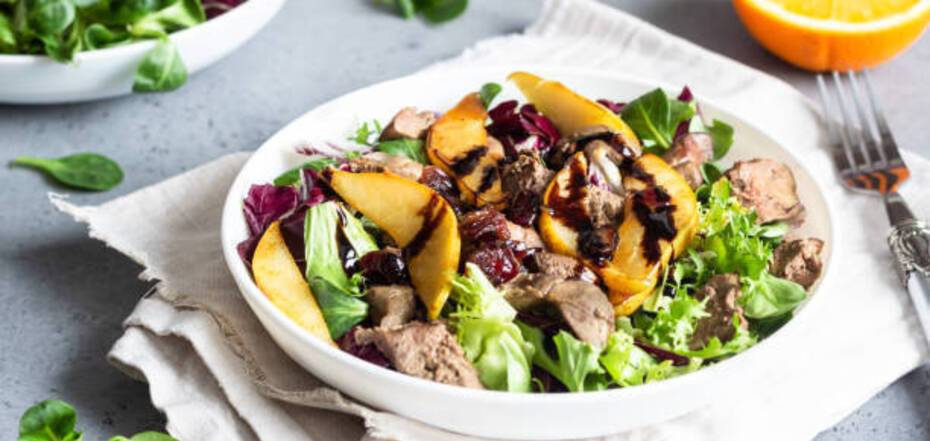 Recipe for salad with liver. Source: Pexels
Salad can be both a dish for lunch and a light dinner. Prepare them best of seasonal vegetables, greens. In order to make the dish hearty, just add the ingredients you like, it can be: cheese, fish, seafood, crab sticks, mussels, meat, mushrooms, liver, beans.
Cook Oksana shared on Instagram a recipe for a delicious and easy dinner salad made of chicken liver, with greens and nuts.
Ingredients:
Chicken liver - 300-350 grams
Mixed salad - 1 pack
Eggs - 3 pcs.
Walnuts - a handful
Onions - 2 pcs.
Sesame
Oil
Salt
Soy sauce
Oil - 1 tbsp.
Lemon - 1/4
Sugar - 1 tsp.
Sauce:
Olive oil
Grain mustard
Lemon juice/apple vinegar
Honey
Salt/Soy Sauce
Method of preparation:
1. Wash liver under running water, chop. Wipe dry with paper towels. After on a heated frying pan add oil, put the liver, and when it will be golden on all sides - cover with a lid for 1-2 minutes. At the end - salt, add a piece of butter, lemon juice and caramelized onions. Do not cook the liver for a long time, because it will become tough!
2. Slice the onions into half rings, fry until golden, turn down the heat and caramelize the onions by adding soy sauce and a little sugar at the end.
3. Boil the hard-boiled eggs and slice into circles along with the cherry tomatoes.
4. Dry the nuts and sesame seeds in a pan.
5. Sauce: Mix all the ingredients together.
6. Assemble the salad: put the greens, sliced eggs, tomatoes, nuts, warm liver in a plate and at the end - pour the dressing over it all and sprinkle with sesame seeds.
Also on OBOZREVATEL you can read the recipes: