Trending:
Mushroom zucchini salad for winter: simple recipe for a delicious appetizer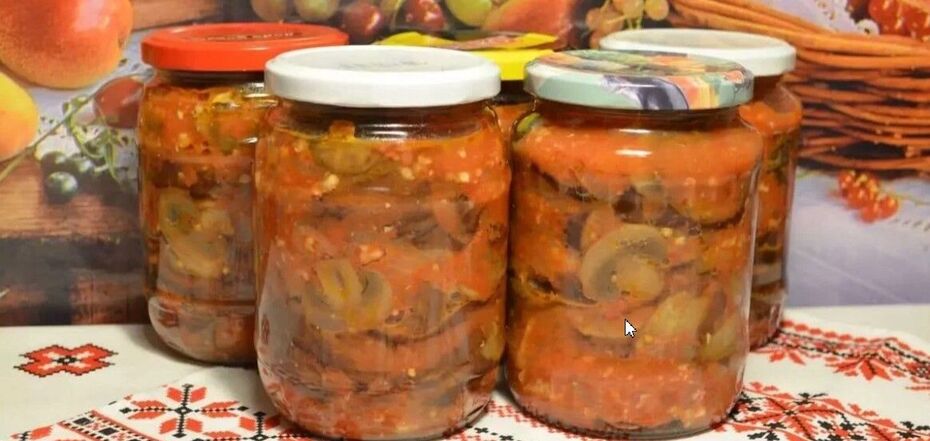 Salad recipe. Source: screenshot from a YouTube video
Zucchini are ideal vegetables for making pancakes, fritters, appetizers and even cakes. They can also be fried in flour, stewed with vegetables, spices and tomato sauce. Housewives make delicious salads and appetizers for the winter, as well as pickle and caviar.
The recipe for a delicious zucchini salad with mushrooms was published on the Smachni Retsepty channel on YouTube.
Ingredients:
Zucchini - 1.5 kg
Mushrooms - 1 kg
Garlic - 50 g
Sugar - 125 g
Vinegar - 100 g
Salt - 1 tbsp.
Tomato paste - 2 tbsp. l
Chili pepper - 2 pcs.
Oil - 250 ml
Method of preparation:
1. Chop mushrooms and zucchini, mix.
2. Mix sugar, salt, vinegar, oil, tomato paste and stir. Pour over the zucchini and mushrooms, put on the heat and simmer.
4. Add garlic and cook further.
5. Place chili peppers in the bottom of sterile jars, top with mushrooms and zucchini. Cover the jars with lids, place in a pot of water and sterilize. Preserve and turn the jars upside down.
OBOZREVATEL also reported how to cook zucchini for the winter so they taste like mushrooms.