Trending:
Meat with eggplants in Georgian style: recipe for a delicious dish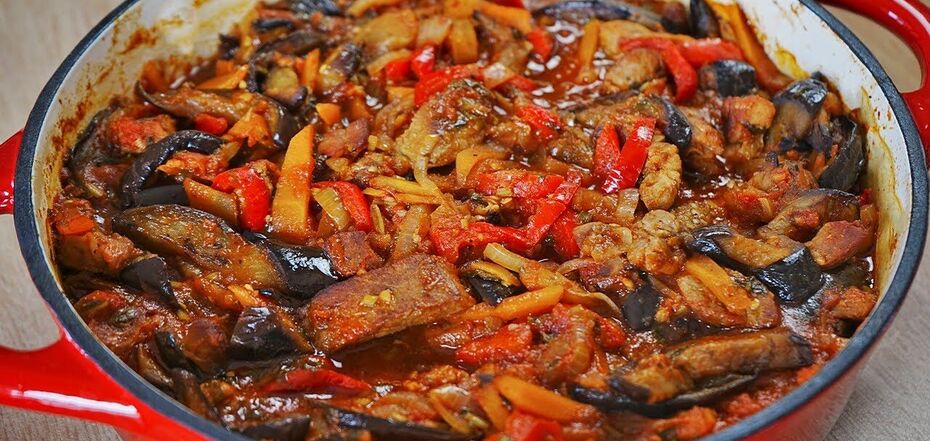 Recipe. Source: screenshot from YouTube video
Eggplants can be an ideal base for making delicious caviar, salads, as well as appetizers in the form of rolls. And eggplant can also be deliciously pickled and made into salads for the winter.
Cook Tatiana shared on Instagram a recipe for a delicious dish of eggplants, with vegetables and meat.
Ingredients:
pork - 800 g
eggplants - 800 g
carrots - 200 g
bell pepper - 200 g
tomatoes - 800 g
onion - 200 g
tomato paste - 3 tbsp. l.
garlic - 20 g
cilantro - 80 g
spicy ajika - 1-1.5 tsp.
hops-suneli - 2 tsp.
sugar - 1 tsp.
salt - to taste
frying oil
Method of preparation:
1. Cut the eggplants into slices, salt and leave to get out the bitterness.
2. Cut the meat into slices across the fibers and fry in a heated frying pan. Meanwhile, cut the carrots and peppers into slices and quarter the onion into rings. Make incisions in the tomatoes, put them in a bowl and pour boiling water over them, as soon as they are steamed, peel off the skin, remove the root and chop with a blender.
3. Transfer the roasted meat to the pot.
4. Squeeze eggplants and fry in vegetable oil until half cooked. Add to the meat.
5. Fry the chopped carrots separately for a couple of minutes, add the onion and pepper to it, fry until soft. Then add chopped tomatoes, ajika, hopeli-suneli, tomato paste, sugar, salt. As soon as the mass boils, add chopped garlic and herbs. Transfer the vegetable mixture to the meat and eggplants (if the tomatoes are not juicy enough, add a little water). Stew on medium heat under a lid for 30 minutes or cook further in the oven, stirring occasionally.
Sprinkle the greens over the finished dish!
Also on OBOZREVATEL you can read the recipes: