Trending:
How to put together a tasty and budget-friendly grocery basket for every day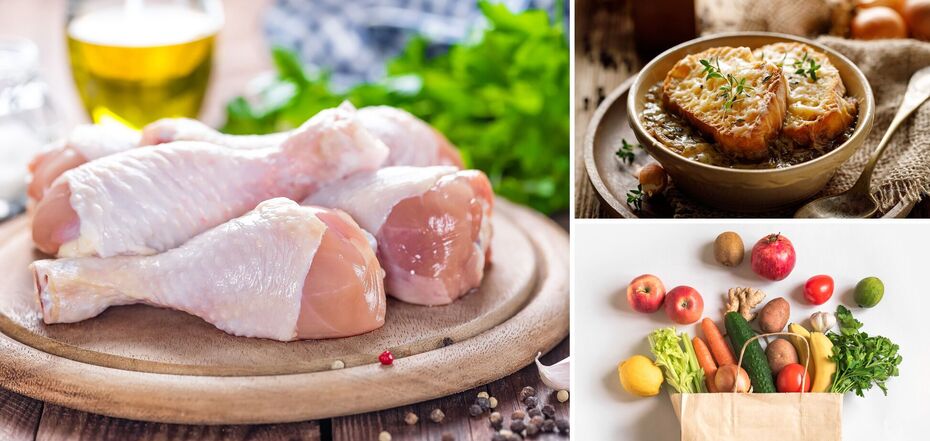 How to put together a tasty and budget-friendly grocery basket for every day
Planning your meals is important not only for your health, but also for your wallet. It may seem like a real challenge to put together a balanced, tasty, and budget-friendly grocery cart, but it's not. With the right approach and attention to detail, you can enjoy delicious food without spending a lot of money.
The first thing you need to do is plan your shopping and make a list of the products you need to buy. To ensure that your diet is balanced, you need to add a variety of foods to the list and make sure that you have the right ratio of proteins, fats, and carbohydrates in your diet.
We have prepared a list for you that you can use as a guide when planning your purchases.
1. Chicken shank. It is an excellent source of protein and important minerals. In addition to being more affordable than other types of meat, it can be used to prepare many delicious dishes. We recommend that you buy chicken from a reliable producer. Nasha Ryaba, for example, carefully monitors all stages of production: from growing grain for feed to meeting all quality standards.
2. Vegetables and fruits. Choose seasonal fruits and vegetables because they will cost you less. Tomatoes, cucumbers, carrots, pumpkin, apples, and bananas are not only good for your wallet, but also for your health!
3. Cereals. Cereal dishes, such as rice porridge or boiled pasta, are perfect as a side dish. This is a real source of energy, and a very profitable one at that, and you can combine them with any application.
4. Dairy products. To make your shopping cart more profitable, choose low-fat or fat-free dairy products.
Once you've created your shopping list, head to the store. But be careful: there may be a discount on the item you want! Promotions can make your shopping cart more profitable. And to save even more, head to a wholesale store. There you can buy more products with a long shelf life for a better price!
And the last thing! To be sure of the quality of your food, cook at home. Of course, we all love to treat ourselves to a fast food or restaurant, but you can eat better food at home for less money!
We invite you to try a delicious and profitable dish! This is an onion soup with juicy chicken drumstick. It will be to the taste of both adults and children. In addition, it will definitely be enough for everyone!
List of products:
Chicken drumsticks - 5 pcs.
Bay leaf - 1 pc.
Salt, pepper - to taste.
Water - 1 liter.
Onions - 4 pcs.
Soda - 1 tbsp.
Butter - 30 g.
Baguette croutons - 4 pcs.
Hard cheese - 100 g.
Parsley - for garnish.
Put the chicken drumsticks and bay leaf in a saucepan and cover with water. Boil to make a broth. The drumstick broth has a richer flavor and thicker texture due to the bone.
Cut the onion into half rings and cook it in butter until it turns brown. Then add baking soda and stir for another 5-10 minutes. The onion should start to turn into a sauce. After that, chop it with a blender and rub it through a sieve.
Dilute the grated onion with broth and pour the dish into soup tureens.
Grate the cheese and sprinkle it over the croutons. Put one crouton in each bowl and put everything in a preheated 220 °C oven. Bake until golden brown (about 15 minutes).
Enjoy a very easy to prepare and delicious dish that will save your budget!