Trending:
How to fry potatoes so that they do not stick, do not burn and are not raw inside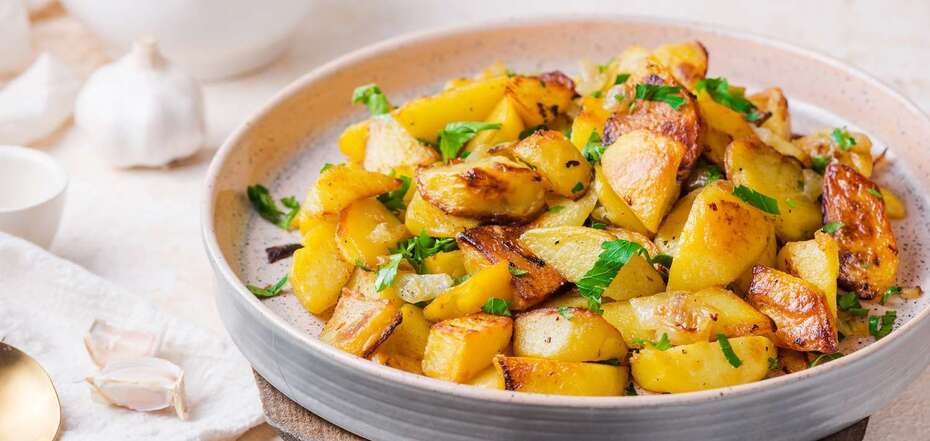 Fried potatoes. Source: thespruceeats.com.
Everyone knows how to cook fried potatoes. However, they often turn out raw inside and burnt on the outside. To prevent this from happening, it should be soaked in cold water beforehand, fried on maximum heat first and then on minimum heat under a lid.
Culinarian Yulia shared on Instagram a recipe for fried potatoes that won't burn, but will still be crispy and delicious.
Tip: put sliced potatoes in cold water and add ice. When frying potatoes do not stir it often and cook the dish under a lid!
Ingredients:
potatoes - 1-1,1 kg (peeled)
salt - 1.5 tsp.
oil - 70-80 ml
spices: pepper, potatoes, favorite - to taste
Method of preparation:
1. Cut peeled and washed potatoes into fairly coarse slices. Salt and mix well.
2. Heat the vegetable oil well in a deep frying pan over maximum heat. When the oil is hot, turn the gas to a minimum, add potatoes, cover with a lid and keep for 15 minutes until half cooked, but do not stir.
3. Remove the lid and decrease to the maximum heat. When the potatoes are brown at the bottom, turn them over (it is better to do it with a spatula for turning pancakes). After that, you need to stir them 2 more times, making sure that the bottom is browning, but not burning.
4. Add salt and pepper, as well as potato seasoning.
Sprinkle with dill and green onions!
Also on OBOZREVATEL you can find recipes: