Trending:
How to clean a tray without chemicals: top 3 most effective and safe means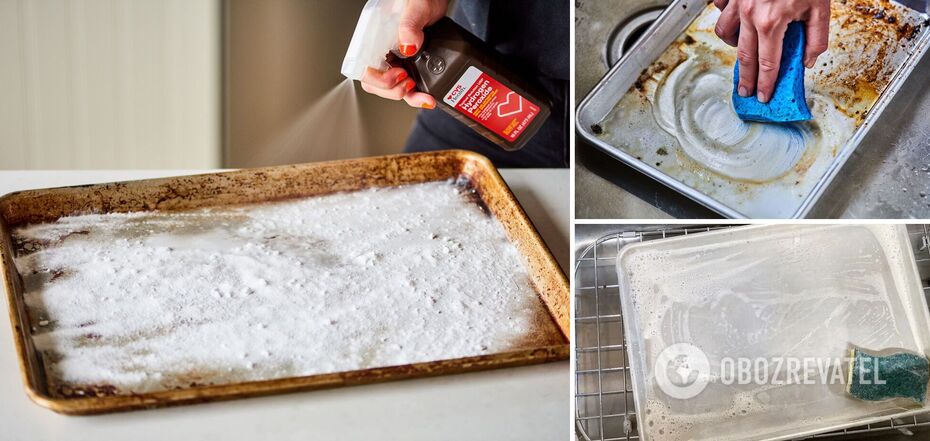 Cooking in the oven is one of the best ways to preserve the vitamins and minerals in foods when cooking. But, very often food sticks to the baking tray, thus spoiling its surface. Often even the most powerful and aggressive cleaners can only spoil the tray, not clean it.
FoodOboz's editorial team shares the 3 most effective tools for cleaning baking trays from soot and stubborn stains.
1. How to clean grease and fouling from metal trays at home
Before washing the tray, pour hot water over it and leave it for 1 hour, making sure to remove any leftover food before doing so. Add a few drops of dishwashing detergent. After 1-2 hours, rinse the tray with water. If stains remain even after that, cover them with baking soda and salt and scrub them with a sponge. Rinse with running water!
2. How to clean a baking tray with salt
Salt the baking tray and put it in the oven for 30 minutes at 100 degrees Celsius. Then let the tray cool, remove the salt, and wash with running water.
3. How to clean with baking soda and vinegar
Pour water into a baking tray, add 2 tbsp of vinegar, sprinkle baking soda, and add dishwashing detergent. Put the tray in an oven heated to 100°C for 30 minutes. Then let the water cool and wash.
Also, OBOZREVATEL reported how to wash dishes without detergent.