Trending:
Garnish for all dishes: zucchini with rice and tomato paste for winter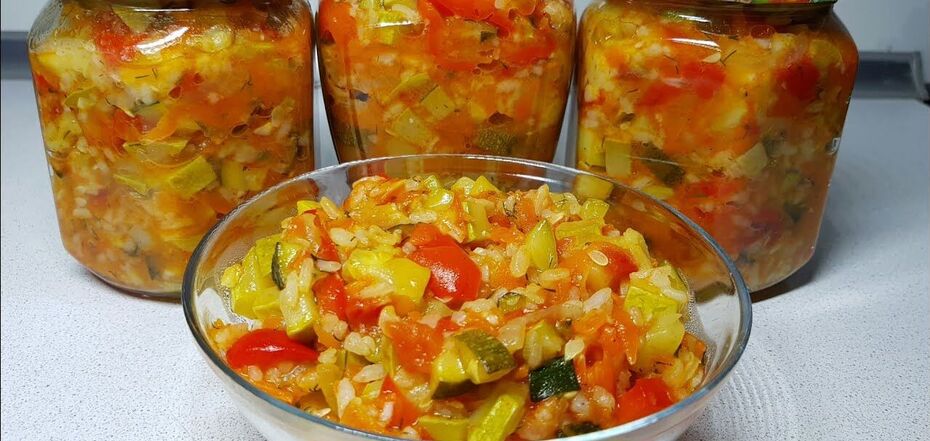 Appetizer recipe. Source: screenshot from YouTube video
Zucchini for the winter can be cooked with and without vegetables, as well as with ketchup, garlic, chili peppers, tomatoes and even with rice, canned fish and beets. But, it is important to remember that the skin of young zucchini is very thin and tender, so they should not be stewed or boiled for a long time, otherwise they will turn into mush.
FoodOboz editors share a popular recipe for a tasty appetizer for winter from zucchini with rice, tomato paste and vegetables.
Ingredients:
Rice - 350 g
Zucchini - 2 kg
Vinegar 9% - 50 ml
Onions - 1 kg
Carrots - 1 kg
Tomatoes - 1 kg
Salt - 4 tbsp.
Sugar - 100 g
Vegetable oil - 250 ml
Garlic - to taste
Method of preparation:
1. Boil the rice until half-cooked.
2. Dice the onions, grate the carrots and fry until golden. Add the chopped vegetables - peppers and tomatoes, stew for about 5 minutes under a lid.
3. Pour in the tomato juice, water, add sugar and salt. Stew for another 5 minutes under a lid. Then add the vinegar, stir and braise for another 5 minutes.
3. Dice the zucchini and add, stir and cook under the lid for 5 minutes. Add the herbs and grated garlic.
4. Then add the rice, stir and stew for another 5 minutes.
5. Stir, place in jars and preserve.
Also on OBOZREVATEL you can read the recipes: