Trending:
Delicius and original lazy eggplant gnocchi for dinner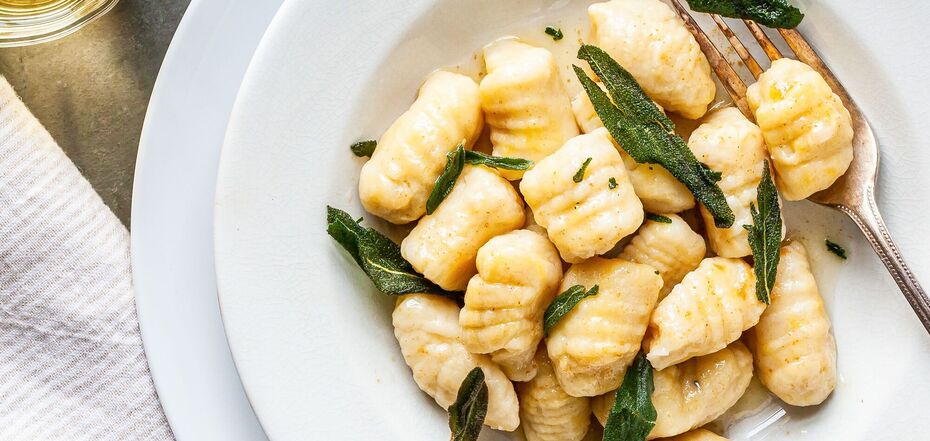 Recipe. Source: simplyrecipes.com
Eggplants can be used to make not only delicious warm salads, appetizers and caviar but also gnocchi, the taste of which will surprise you. Add parmesan, garlic and basil for a brighter flavor.
Cook Evhenia shared on Instagram a recipe for a delicious eggplant dish: gnocchi with parmesan, garlic and basil.
Ingredients:
eggplant - 2-3 pcs.
eggs - 1 pc.
hard cheese - 50 g
flour - 150 g
vegetable oil
chorizo
cherry tomatoes
garlic
basil
parmesan
Cooking method:
1. Cut the eggplants in half, make incisions, salt and leave for 30 minutes. Drain the resulting water and rinse the eggplants.
2. Grease with vegetable oil and cook in the oven for 30-40 minutes at 180 C until completely soft.
3. Take the pulp out, put them in a blender and chop. Add egg, cheese and flour. Observe the consistency of the dough. Transfer the finished dough to a pastry bag.
4. Cut the tip to the size of the diameter. Press the dough into the salted boiling water. When the gnocchi float, remove them with a colander.
5. Fry chopped chorizo and garlic in a pan. Add cherry tomatoes and gnocchi.
Top with basil and parmesan when serving!
Also on OBOZREVATEL you can read the recipes: