Trending:
Cucumbers with ketchup and garlic for winter in 30 minutes: recipe for a spicy appetizer from the culinary expert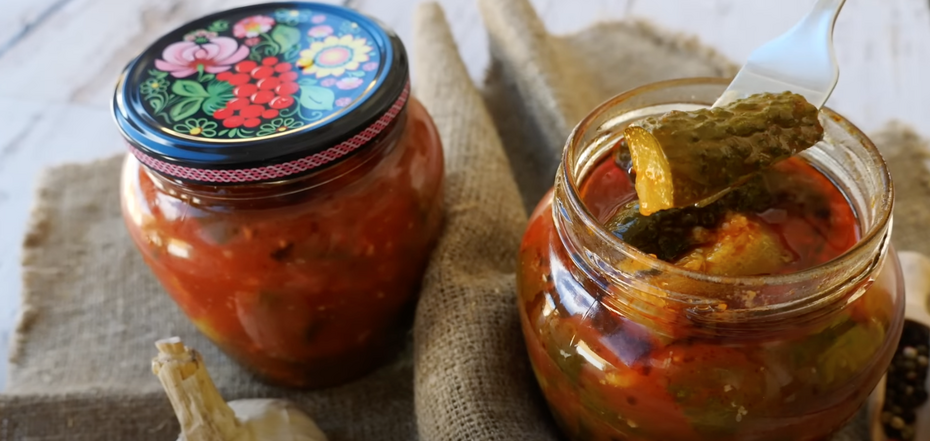 Recipe for pickles with ketchup and garlic. Source: screenshot from YouTube video
Crispy, tasty and fragrant pickled cucumbers are the best winter snack. You can prepare them with mustard, spicy ketchup, garlic and spices. You can also simply pickle them with onions, herbs and berry leaves.
Culinarian Olga Matvey shared on her YouTube channel a recipe for delicious pickles with two kinds of ketchup and garlic.
Ingredients:
Marinade:
Vegetable oil - 250 ml
Water - 125 ml
Sugar - 180 g
Salt - 1.5 tbsp. l.
Vinegar 9% - 100 ml
Ketchup - 250 g
Chili ketchup - 250 g
Garlic - 12 cloves.
Method of preparation:
1. Marinade: mix water, oil, salt, sugar, vinegar and two kinds of ketchup, stir and set aside for 5-10 minutes.
2. Cut the cucumbers into 4 pieces and halve them. Add to the marinade, bring to the boil, cover and simmer for another 25 minutes under cover.
3. Press the garlic through a press or chop it finely with a knife, transfer it to the pickles and cook it for 10 minutes.
4. Place the cooked cucumbers in ketchup in jars and preserve.
Also on OBOZREVATEL you can read the recipes: