Trending:
Crumbly pilaf with meat in a pan: we share the secrets of cooking and a recipe for dinner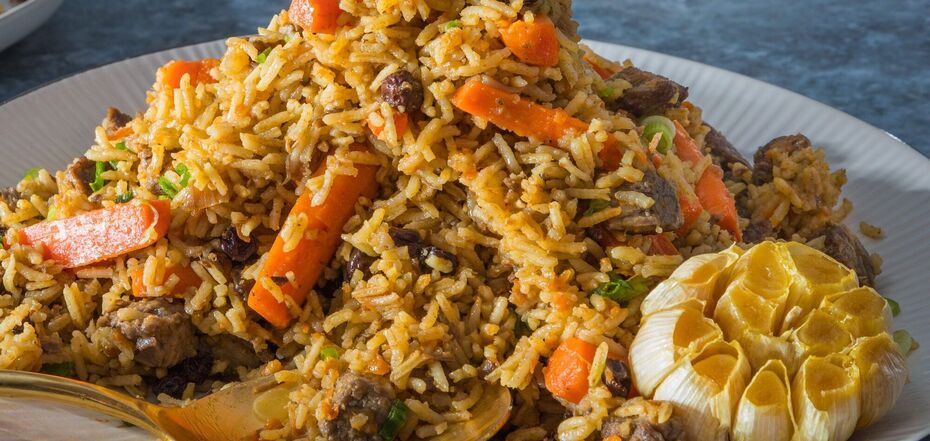 Crumbly pilaf in a pan. Source: cloudinary.com
Pilaf is a very successful, tasty and satisfying dish for lunch and dinner. It can be cooked with or without meat, vegetables, or both. To make the rice in the pilaf crumbly, it is best to cook it in a frying pan and not stir the rice until the water has completely evaporated.
Cook Polina shared on Instagram a recipe for a delicious pan pilaf that will be crumbly.
Ingredients:
pork - 600 g
rice - 200 g
onion - 1 pc.
carrot - 1 pc.
garlic - 1 head
hot water - 400 ml
spices for pilaf - 2 tbsp.
vegetable oil
Method of preparation:
1. Fry the onion until golden brown. Then add meat and fry for another 5-10 minutes, then carrots and fry together for another 10 minutes over medium heat. Season with salt and spices and stir.
2. Rinse the rice well and add to the pan, stir and cover with hot water. Add the garlic clove and cover, reduce the heat and cook for another 30-35 minutes until the water evaporates. Do not open the lid and do not stir the pilaf.
3. After the water has completely evaporated, remove the garlic and stir the pilaf!
You can also find recipes on OBOZ.UA: