Trending:
Crispy golden deruny with mushrooms: sharing the secrets of the bright color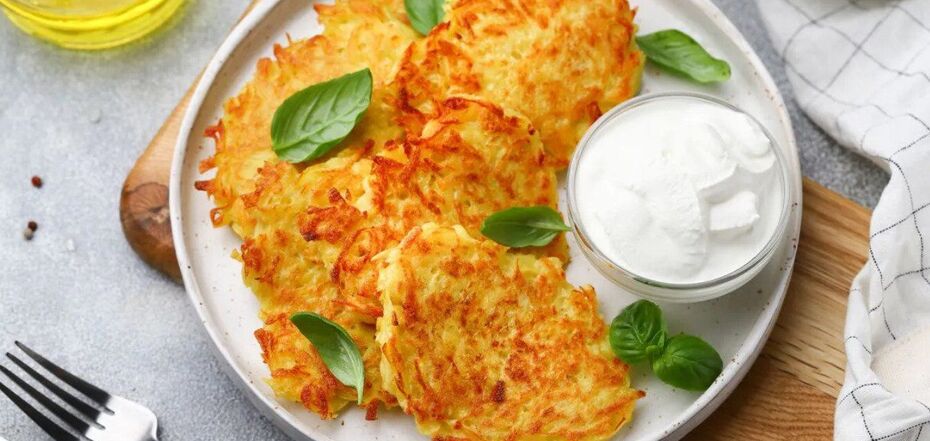 Recipe for potato pancakes. Source: Screenshot from a YouTube video
Potato pancakes are the simplest potato dish that can be prepared with minced meat, cheese, and mushrooms. To prevent them from being tough, choose mature and firm potato tubers with rough skin and a yellow center. It will not only improve the flavor but also help to maintain the shape of the finished dish. Young potatoes are not suitable for pancakes because of their low starch content.
Cook Vita shared a recipe for delicious potato pancakes with minced meat, fried mushrooms, and onions on Instagram.
Tip: to prevent the pancakes from turning gray, be sure to add grated onion or onion juice to the base!
Ingredients:
potatoes - 1.5 kg
onion - 2 pcs.
eggs - 2-3 pcs.
flour with a slide - 3-4 tbsp.
salt, pepper - to taste
minced meat - 500 g
oil for frying pancakes
For frying:
onions - 2-3 pcs.
boiled wild mushrooms - 300 g
Method of preparation:
1. Grate potatoes, add grated onion, eggs, salt, pepper, minced meat, and flour, and mix well.
2. Fry the pancakes until golden brown.
3. Fry mushrooms and chopped onions until golden brown and serve the pancakes with mushroom stir-sry.
You can also find recipes on OBOZREVATEL: