Trending:
Chicken cutlets in tomato sauce for dinner: will be juicy and soft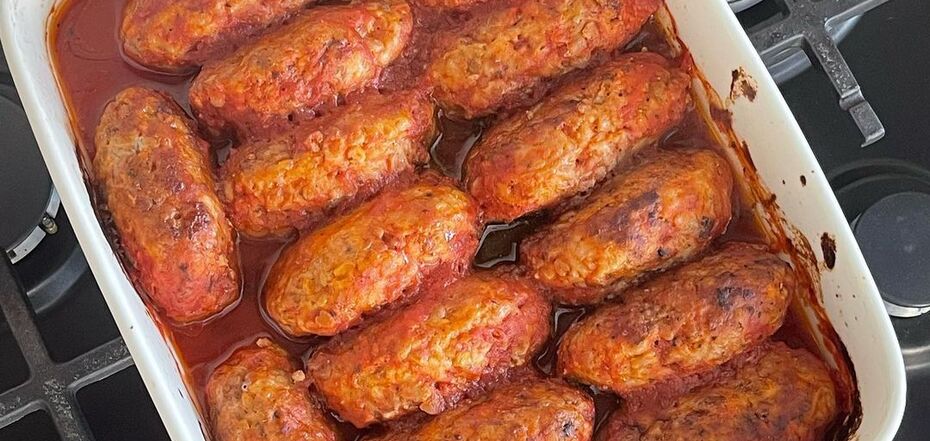 Cutlet recipe. Source: instagram.com/cook_with_me_at_home/
Meat cutlets can be made from any meat but, the tastiest will be using dietary chicken meat. To make them juicy, cooks advise adding vegetables to the mince and stewing them in a sauce.
Cook Natalia shared on Instagram a recipe for juicy chicken cutlets in tomato sauce with vegetables.
Ingredients:
For cutlets:
minced chicken - 600 g
eggs - 1 pcs.
onion - 1/2 pcs.
flour - 2 tbsp.
spices (salt, pepper, paprika, Italian herbs)
herbs
vegetable oil for frying
For sauce:
onion - 1/2 pc.
garlic - 1 pc.
carrot - 1 pc.
zucchini - 1 pc.
can of tomatoes in their own juice - 400 ml
water - 50-70 ml
firm cheese - 50 g
spices - salt, pepper, Italian herbs
Instructions:
1. For cutlets: add egg, finely chopped onion, some herbs, spices and 2 tablespoons of flour to the minced meat, mix until homogeneous.
2. Form cutlets with your hands and fry them in vegetable oil over medium heat on both sides until golden, then put them on a paper towel.
3. For sauce: in the same pan where the cutlets were fried, fry the onion and garlic until transparent. Add carrots and zucchini and stir-fry until the vegetables are soft, 5-7 minutes. Add tomatoes with their juice and pour in a little water. Season with spices and bring to a boil, heat for 2-3 minutes. The sauce should thicken.
4. Put half of the sauce into the baking dish, place the cutlets, then the sauce again.
Put cheese on the top and bake in the oven for 15-20 minutes at 180 C.
Also you can read more recipes on OBOZREVATEL :
<a href="https://food.obozrevatel.com/osnovnyie-blyuda/sochnyie-rublenyie-kotletyi-iz-indejki.htm" target="_blank">Juicy chopped turkey cutlets</a>
<a href="https://food.obozrevatel.com/osnovnyie-blyuda/kapustnyie-kotletyi.htm" target="_blank">Cabbage cutlets</a>