Trending:
Aubergine with vegetables in sweet and sour sauce for dinner: a recipe for a delicious and savoury dish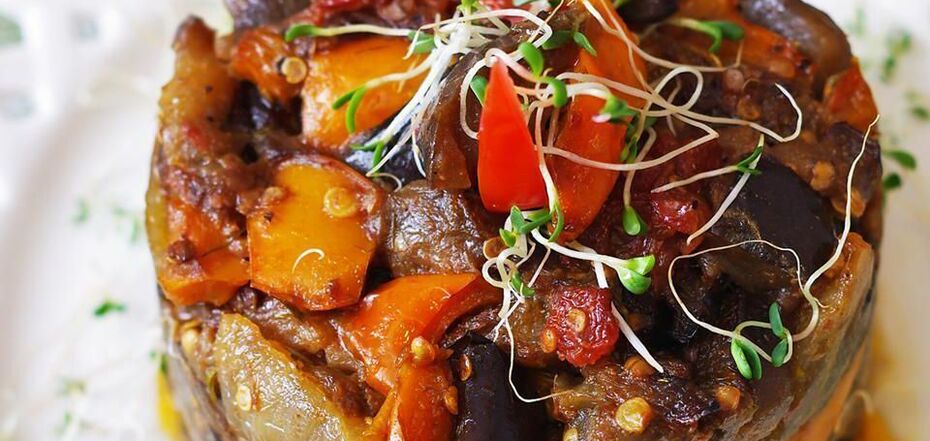 Delicious aubergine salad . Source: allrecipes.com
Aubergines can be used to make delicious caviar, as well as cheese-filled rolls and salads. They can also be cooked deliciously for the winter with vegetables, spices and sauces.
Cook Iryna shared on Instagram a recipe for aubergines in a sweet and sour sauce that won't fall apart.
Ingredients:
aubergines - 2 pcs.
pepper - 2 pcs.
onion - 1 pc.
chili pepper - 1 pc.
garlic - 2-3 cloves.
starch - 3 tbsp.
Sauce:
soy sauce - 5 tbsp.
apple or rice vinegar - 3 tbsp.
sugar - 1 tbsp.
garlic - 2-3 cloves.
Thickener:
starch - 1 tbsp.
water - 50-100 ml
Method of preparation:
1. Partially peel the aubergines and cut them into large pieces. Dredge in starch and fry in a deep frying pan in plenty of oil until golden brown. Put them in a sieve to drain the excess oil.
2. Cut the pepper and onion into large pieces. Also chop the chilli and chop the garlic.
3 Separately, fry the peppers, onion, garlic and chilli together until golden brown. About 3-4 minutes. Add the aubergines to the pan and stir.
4. For the sauce: mix soy sauce, vinegar, sugar and garlic. Pour into the pan, stir and simmer for 1-2 minutes until thickened.
Sprinkle the finished dish with chopped cilantro!
Also on OBOZREVATEL you can read the recipes: