Trending:
2in1: apple cream pie on shortcrust pastry with cottage cheese filling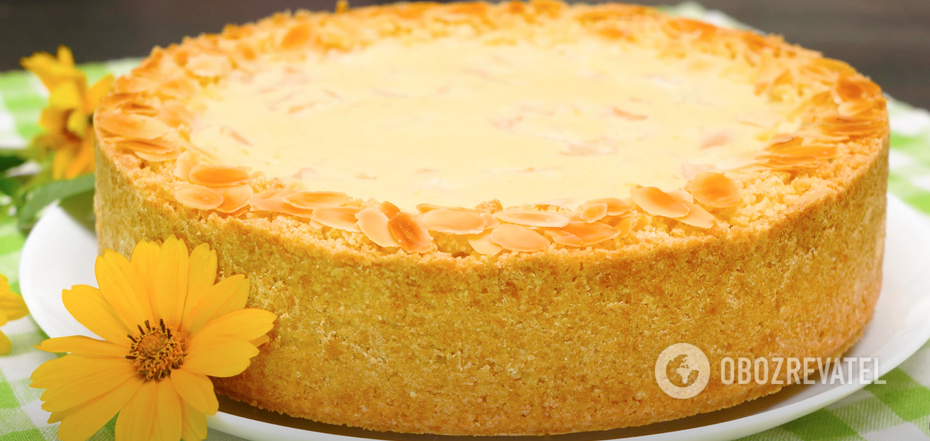 Pie recipe
Apple pies are a true autumn pastry that can be made with any kind of dough. For example, if you like dry pies, then make shortbread, if you like soft and fluffy pies, prepare the dough with baking soda, baking powder or yeast. For pies like Charlotte, you should definitely make a liquid dough.
The FoodOboz editorial team shares a recipe for a delicious apple pie with cottage cheese cream, based on shortcrust pastry.
Ingredients:
Filling:
apples - 600 g
sugar - 2 tbsp
butter - 10 g
lemon juice - 2 tbsp
Dough:
flour - 300 g
baking powder - 1 tsp
sugar - 80 g
butter - 110 g
eggs - 1 pc
a pinch of salt, vanilla
For the cream:
eggs - 1 pc
vanilla - a pinch
sugar - 100 g
zest
flour or starch - 40 g
milk - 350 g
cottage cheese - 300 g
starch - 1 tbsp
Method of preparation:
1. Dough: mix the flour with baking powder, add the diced butter and mash into crumbs, then add the egg, vanilla and salt, mix and refrigerate. After that, put the finished dough into the mold, forming the sides, prick it with a fork.
2. Filling: wash, peel and dice the apples, fry them in butter and sugar until they become soft.
3. Cream: Beat the eggs with sugar, vanilla, salt, and milk. Then add the flour and starch, mix gently. Beat the cottage cheese with a blender, add the zest, and mix. Put the apples in the cream and pour the batter.
4. Bake the cake until cooked at 180 C.
Let it cool and sprinkle with almond flakes.
You can also find more recipes on OBOZREVATEL: