Trending:
You wouldn't know it: how the looks of the top models of the '70s have changed. Photos then and now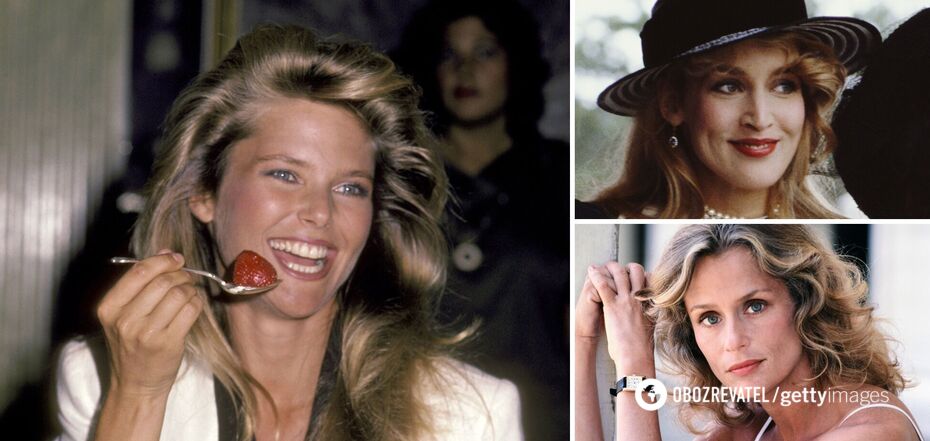 How the appearance of the models of the 70's was transformed.
Once upon a time, these beauties never dreamed of conquering catwalks. They grew up in families with modest incomes and saw their future in the office. However, designers and photographers discerned in them not only cute features and a graceful figure, but also charisma and inner core. All this helped the girls to become top models.
Find out how the appearance of the mannequins of the 70s changed. Some of them quietly accepted the age changes, and some of them tried to "prolong" their youth with the help of plastic surgery. Read more in the article published by OBOZREVATEL.
1. Christie Brinkley (69)
Paris. 1973. An American photographer saw young Christie Brinkley in a post office. The man was struck by the beauty of the girl, and he offered her a career in modeling. She did not refuse. So keen on the new business that she quickly became one of the most famous top models of the 70s. Later, the star was in demand in the film industry as well: starring in movies and TV series. Christie also writes books, sings, is fond of photography and drawing.
2. Grace Jones (age 75)
American model, singer and actress Grace Jones was born in Jamaica into the family of a church preacher. Accordingly, she had a strict upbringing. At school, the girl was called "stick" because of her excessive thinness, she was modest and withdrawn.
Grace's life changed dramatically at age 18. She became a famous supermodel who conquered the catwalk thanks to her unique androgynous appearance. She was also one of the first black models to build a successful music career. Jones is still, at the age of 75, happy to attend social events.
3. Janice Dickinson (68)
American supermodel, actress and photographer Janice Dickinson was born into a dysfunctional family. A despotic father tempered the character of the future celebrity. More than once she heard him say, "You'll never be anything! Perhaps it was this that gave Janice the drive and energy to prove otherwise.
In 1973, the girl graduated from high school and headed to New York to become a model. During her career she worked with Vogue, Elle, Harper's Bazaar, Playboy and VOICE.
As she got older, Janice didn't want to accept age-related changes in herself, so she decided to remove them with plastic surgery. The celebrity overdid it.
4. Jerry Hall (age 66)
American model and actress Jerry Hall left her parents' home when she was 17 years old. All because her father repeatedly beat her and her mother. The girl rented a place together with Grace Jones, who inspired her to take up modeling.
Hall's career began when she appeared as a siren on the cover of Roxy Music's Siren album. At 21, the celebrity was on the covers of 40 magazines, including Italian Vogue and Cosmopolitan.
5. Lauren Hutton (age 79)
At the age of 18, Lauren Hutton moved to New York, where she began acting as an advertising model. Later a long time cooperated with Playboy Club, Vogue, Revlon, Calvin Klein and other brands. In 1968, already a popular model, Lauren made her film debut - starring in "Paper Lion". Then she appeared in tapes "American Gigolo", "Scraps of a Dream", "Malone", "Studio 54" and "Pretty Woman on a Whole Head".
Lauren is still starring for global brands. For example, in 2016 for an H&M commercial and in 2017 for a Calvin Klein underwear advertising campaign (she was 73 years old at the time!).
Earlier OBOZREVATEL wrote about the models who turned the features of appearance into their main strength.
Only verified information on our Telegram-channel Obozrevatel and Viber. Do not be fooled by fakes!