Trending:
"You and Ani Lorak are doing a great job!" Ukrainians jokingly praised Maruv for the "3 million for AFU" donation and are already waiting for new ones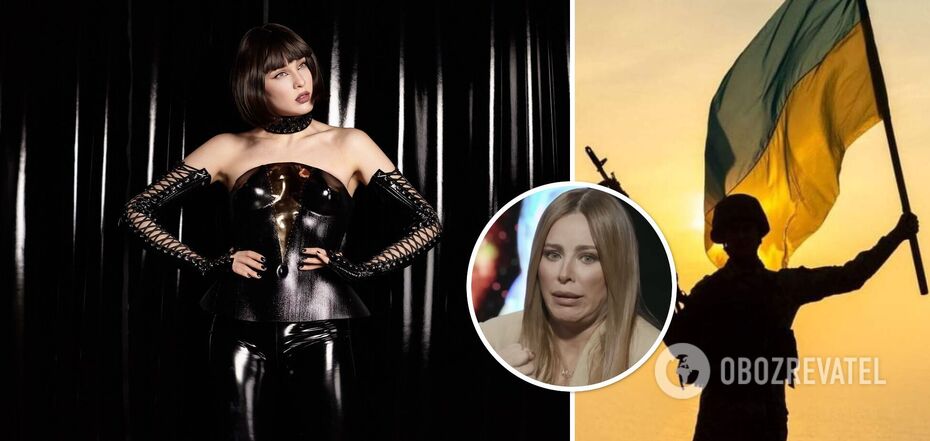 A joke about Maruv donating to the Armed Forces is spreading online
The famous Ukrainian singer Maruv (real name Anna Korsun), who is still silent about the full-scale invasion so that she can earn bloody rubles, has become the heroine of memes about "helping" the Ukrainian Armed Forces. Blogger and activist Serhiy Sternenko jokingly asked the traitor if she would give money for drones for Ukrainian defenders. He had previously joked this way with Ani Lorak, who was almost expelled from Russia for her fictitious "support" of the Ukrainian army.
Z-patriots believed the photoshopped photos with drones from Ani Lorak were true. The artist did not donate money for drones at all. The star was accused of treason in Russia and her concerts were disrupted. Now Sternenko has decided to pull off a similar story with Maruv, as he shared on his Telegram channel.
"Will you give money some money for the drones?" the activist commented on a recent video of the singer-songwriter from Pavlohrad, Dnipro region.
Maruv responded by blocking Sternenko, which the blogger soon wrote about: "Yeah, Anna Korsun doesn't want to spend money on drones, unlike Lorak. So, let's buy her a separate drone."
Ukrainian Internet users organized a "flash mob" on the traitor's social media page. They filled the comments under her posts with questions like "Are you going to donate money for drones or not?"
Some Internet users went further and decided to spread the fake that Maruv had already donated, "sincerely" thanking the artist. Putinists will likely believe this joke as well, accusing the Ukrainian of "sponsoring the Armed Forces" and wanting to sit on two chairs. However, they are right in the second case.
One of the commenters wrote on Facebook, "Thank you for taking the right side even under public pressure. Your first cautious donations are quite generous. UAH 3 million to the Come Back Alive Foundation is something. You and Ani Lorak are doing a great job! Glory to Ukraine!"
Other commenters also said, "Thank you for the drones for the Armed Forces! They are already working", "That's right, don't admit that you are donating to the Armed Forces from Putin's budget. Conspiracy!"
Maruv, who released a track with Putinist Philipp Kirkorov shortly before the full-scale invasion, has rarely been active on social media. However, she has become more active recently, starting to post candid photos. These are archival shots taken during the filming of the video for the song Sad Song.
While some Ukrainians humorously thank the silent woman for her "donations," others react to her treacherous stance with extreme harshness, as they do not understand how a Ukrainian woman can ignore the genocide of her own people so cynically.
"Traitor," "Your country will not forgive your silence," "Don't disgrace our people, who are dying every hour," Ukrainians write.
It is not known where the artist is now. Social media lists her geolocation as the UK, but earlier it was reported that she left for Turkey with her husband and newborn child after February 24. According to other sources she left for UAE.
The Ukrainian woman unexpectedly decided to return to show business in July of this year. However, she did so under a new pseudonym, Sharlotta Ututu. Internet users "destroyed" her with toxic comments.
As a reminder, the fake about Ani Lorak's "donations" first appeared in the spring of 2023. Ukrainian media professionals and concerned users convinced the Russians that the artist was secretly supporting the Armed Forces. She started having problems ever since.
For example, Vitaly Borodin, head of the Federal Project for Security and Anti-Corruption, accused the Ukrainian of having an ambiguous position and demanded that she be fired from television. The singer's big solo concert in Moscow on the occasion of her anniversary was threatened with disruption due to angry Russians' insinuations.
As OBOZREVATEL wrote, Putin later unexpectedly "whitewashed" Ani Lorak's reputation and pitied her, calling her a "victim." Read more in our article.
Only verified information is available on our Telegram Obozrevatel and Viber. Don't fall for fakes!