Trending:
What is a BIAB manicure and why you won't want to return to gel polish after it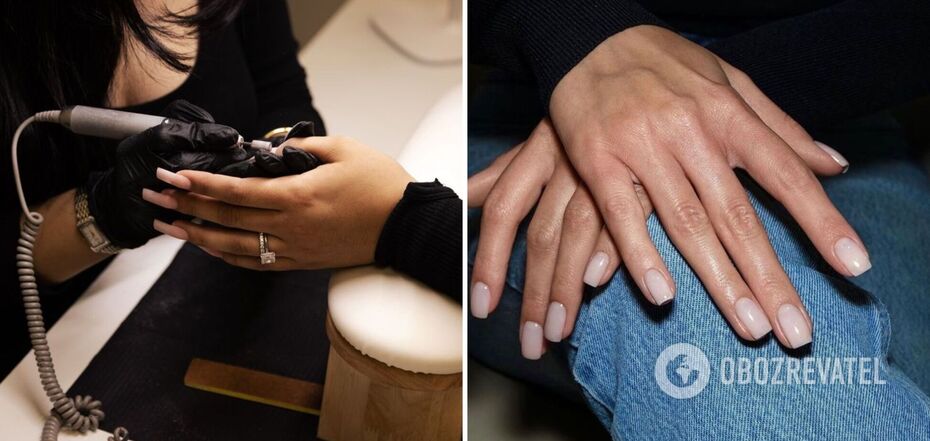 The new BIAB manicure became a trend on the network
Gel manicure has already become a classic, but sometimes you want to give your nails a breather and rest. However, after removing the nail polish, the nails can be weak and brittle, which does not look very presentable. A new 2023 trend that has gone viral on social media will help prevent this. The new generation formula has already gained popularity thanks to the Kardashian-Jenner family. What is so special about BIAB manicure and why is it attracting the attention of more and more ladies of all ages every day?
What is BIAB
BIAB is a manicure made on the basis of a constructive gel. It was created by the masters of The Gel Bottle company from the UK. They also came up with the abbreviation BIAB (Builder In A Bottle, which translates to a building agent in a bottle). "You need to apply the constructive gel to your nails the way we apply regular varnish, and then cover them with gel polish," says Julie Kandalek, a manicurist and owner of Julie K Nail Artelier in New York.
A new formula that is good for nails
According to representatives of the British nail company, this is a real breakthrough in the field of nail art. The fact is that many women who do manicures are not aware of the fact that aggressive chemicals and toxins can penetrate the body through the pores of the nail plate. For example, traditional acrylic contains carcinogens such as formaldehyde and benzene. Therefore, it was important for nail service masters to create a new coating that would bring maximum health benefits.
The composition applied to the nails is a special gel that provides them with a protective barrier. Such a manicure is much healthier than a traditional one.
"Constructive varnish is created using a special formula of soft gel, which is softer than acrylic but thicker than regular gel polishes," explains Tina Bello, a manicurist and senior representative of the Mylee brand. Such a manicure not only looks good, but also provides additional strength and protection, which in turn can allow your nails to grow longer.
"When used properly, BIAB can be great for your nail plate, especially if you tend to bite your nails or they break regularly," says Bello.
Strengthening nails and the "lifespan" of BIAB
Bello says that BIAB nails can usually last for two to four weeks, but it depends entirely on your lifestyle and work.
According to the creators of the gel, thanks to the innovation, nails will always have a smooth and strong look. The main colors used for manicure are pink, but if you want, you can always apply a gel of the desired shade over the base. A layer of universal coating protects the nails from gel polish, and after removing it, they are not as brittle as during a manicure with shellac or acrylic coating.
How a BIAB manicure is done
The entire procedure is similar to the standard gel polish method and takes about an hour and a half. First, the nail technician prepares the nails by shaping them and cutting the cuticle. Then he/she applies a special composition of constructive gel as a base. At the client's request, the nail plate is shaped to the desired shape. Then the coating is dried using an ultraviolet lamp: it takes much longer to harden than shellac.
The last step is to apply gel polish of the desired shade to the nails. In this case, the BIAB coating acts as a base, since there is only one color in its palette - pink.
The difference between BIAB and gel nails
"BIAB often has a slightly thicker consistency than gel nails, but the visual results are the same," explains Bello, " When you leave the salon, you still have a smooth, shiny mani.
The gel, created by the British, provides the same long-lasting and glossy finish as shellac and acrylic, but at the same time strengthens natural nails. Today, BIAB is the best alternative to other gel polishes. It can be applied in thin layers as a base coat to add an extra layer of strength to any manicure. It is perfect for keeping your nails long, strong, and healthy.
Risks
If the gel chips or peels off, you should visit a salon as soon as possible to get a new manicure. Despite the fact that the composition of the construction gel includes ingredients that are useful for nails and help strengthen them, you should not allow chemicals to come into contact with the body.
As it turned out, the coating contains substances that can cause onycholysis, which is the separation of the nail from the nail bed. In this case, treatment of the pathological condition can take several months.
Nail service masters say that not everyone needs it. For example, Charlotte Emily from the UK refuses to treat clients with very thin nails that peel off easily and women who are allergic to chemicals, as there is a high probability of an allergic reaction.
BIAB nails with your own hands
You can buy your own set and do your manicure at home to save some money. The great news about BIAB nails is that you can also do it yourself, so you don't have to keep going back to the salon if you don't want to.
Earlier, OBOZREVATEL wrote about a shade of nail polish that unexpectedly broke into the fall 2023 trends.
Only verified information is available on our Telegram channel Obozrevatel and Viber. Don't fall for fakes!