Trending:
Tragedies turned their lives upside down: five famous women who lost their husbands. Photo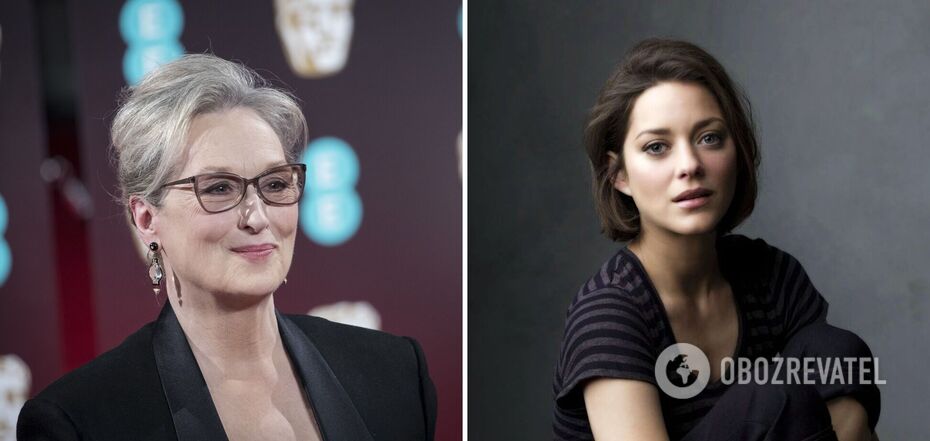 Famous women who have buried their loved ones
On the red carpet, celebrities have to smile broadly for the camera. The same goes for the stage or movie set - the true emotions of the artist are of little concern to anyone. However, very often in the life of public personas there are difficult moments, such as the loss of loved ones. To cope with grief under the scrutiny of the paparazzi and fans becomes many times more difficult.
Today OBOZREVATEL offers to talk about famous women who lost their loved ones. Tragedies literally turned their lives upside down, but they found the strength to move on.
Marion Cotillard and Julien Rassam
Between two talented and promising actors Marion Cotillard and Julien Rassam broke out a stormy and beautiful romance. However, it was not destined to last. Rassam suffered from a mental disorder and dabbled with drugs, resulting in just in front of his chosen one threw himself out the window. However, this was not the end of history - the actor survived, but remained confined to a wheelchair. Cotillard did not leave her beloved. Her feelings were so strong that she did not even think about parting with a man. However, her hopes were in vain. After a while Julien again decided to commit suicide, and this time he left his beloved forever. Actress after years of struggling with deep depression.
Michelle Williams and Heath Ledger
In 2008, the public favorite, a truly talented and brilliant actor Heath Ledger committed suicide. He could not cope with lingering depression, which plagued him for a long time, so he took a large dose of sleeping pills and antidepressants. Until now, there are legends that this happened because of the main role in the life of the filmmaker - the Joker. It was hard for the fans to go through the loss of their idol, but this pain is not comparable to what Michelle Williams - a colleague, lover and mother of Heath Ledger's child - had to experience.
Kris Jenner and Robert Kardashian
Today the Kardashian family name is widely known all over the world. But few people know that it was first made famous by one of the most successful lawyers in America, Robert Kardashian. He and his wife Kris were together for 12 years, and in this time they gave birth to four children, who today are considered to be one of the main stars of Hollywood. The parents put a lot of effort into this. However, at age 59, Robert died of esophageal cancer, which was a big blow to his whole family. At that time, he was already divorced from Kris, but the exes continued to keep in touch until the man's last days.
Meryl Streep and John Casale
In the romance of 27-year-old aspiring actress and an experienced 40-year-old filmmaker from the beginning few believed. However, a year after acquaintance, the situation worsened. Casale was diagnosed with lung cancer in the advanced stages. At that time, still young Meryl Streep showed sincerity of his great feelings and real strength. She supported in every way the chosen one, helped him fight the disease, accompanied him to all social events and just did not leave. The only exception was the shooting of the movie "Holocaust", because of which Streep had to leave a man for three months. Until now, she calls that period one of the most difficult in his life. After that, Casale lived another five months. The actress was with him until the last day, after which she could not cope with the grief of loss for a long time.
Taylor Simone Ledward and Chadwick Boseman
The death of "Black Panther" from the Marvel Cinematic Universe, Chadwick Boseman, has rocked the world. The actor fought third stage colon cancer for four years, but he did not make it. On this difficult path, he was accompanied by Taylor Simone Ledward - the performer and the actor's lawful wife, although the latter fact became known only after the death of the star. This couple has always been very secretive. They did not put their feelings on display, did not make loud public declarations of love, protected their private life from prying eyes as best they could. When Bowsman was gone, Taylor closed herself off even more. Insiders report that the woman still hasn't accepted the tragedy.
Previously, OBOZREVATEL wrote about stars who survived the death of a child. Among them: Keanu Reeves, John Travolta, Oprah Winfrey and many others. All the details are in our story.
Only verified information in our Telegram-channel Obozrevatel and Viber. Do not be fooled by fakes!