Trending:
Tonya Matvienko at 17 and Katya Osadcha at 19: Ukrainian stars who became moms early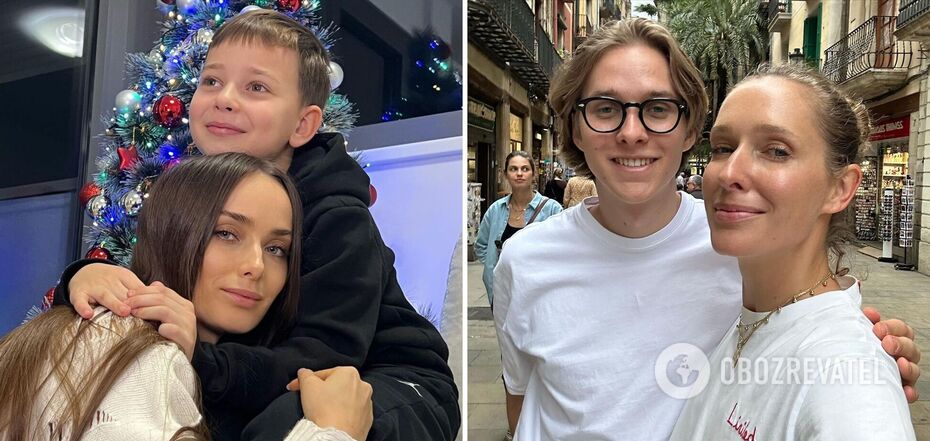 Ksenia Mishyna and Katya Osadcha gave birth to their first children at a young age.
Show business is an industry that brings together creative people with different priorities. Some of them first build a successful career and only then decide to become parents, while others choose to be childless because they can't get pregnant or don't want to.
There is another category: those who gave birth to their first children quite early. Despite their fears, this did not prevent them from conquering the stage or the world of cinema. Read more in the article by OBOZ.UA.
1. Tonya Matvienko
Ukrainian singer and actress Tonya Matvienko first became pregnant at the age of 16 with a 23-year-old boyfriend when she was at school. For several months, she was afraid to tell her mother, People's Artist of Ukraine Nina Matvienko, but finally decided to. While her peers bullied her for her early pregnancy, Nina supported her. So there were no thoughts of abortion.
When she was 17, Tonya gave birth to Ulyana and got married to her boyfriend. 10 years later, the marriage ended. The daughter moved to live with her father and hardly communicated with her mother. This seriously undermined the artist's health. Later, she fell in love with singer Arsen Mirzoyan. She gave birth to a baby girl, Nina, at the age of 35. The celebrity's second pregnancy melted Ulyana's heart: her daughter and mother began to get along like friends.
2. Kateryna Osadcha
Ukrainian journalist and TV presenter Kateryna Osadcha became a mother for the first time at the age of 19 when she gave birth to a son, Ilia, from Ukrainian MP Oleh Polishchuk, who is 15 years older than her. In 2004, the celebrity annulled the marriage. The reason is unknown. Early motherhood did not prevent Katya from combining motherhood with many hours of work on various Ukrainian TV channels.
Now Ilia is studying at a university in the United States, which makes the star mom very proud. She married her colleague, producer and showman Yurii Horbunov and now has two children together, Ivan and Danylo.
3. Kseniia Mishyna
Ukrainian theater and film actress Ksenia Mishyna experienced all the benefits and difficulties of motherhood at the age of 22. As a student working several jobs at the same time, she gave birth to a son, Platon. The father was a married man whose identity the star does not disclose. It is known that he caused Kseniia a lot of pain, both moral and physical. In order to protect her son from the tyrant, Mishyna deprived the ex-convict of his parental rights, so officially he is no longer Platon's father.
4. Vera Brezhneva
Ukrainian singer, actress and TV presenter Vera Brezhneva is the mother of two girls. She gave birth to her first daughter, Sonia, at the age of 18 from politician Vitalii Voichenko. After giving birth, the celebrity did not wait for a marriage proposal from her chosen one, so at some point she left him, leaving a note on the table.
Vera was not alone for long. Shortly after the breakup, she started an affair with Mikhail Kiperman, a businessman, oil magnate, and billionaire. He divorced his wife and married Brezhneva. Together they had a daughter, Sarah. But even this relationship did not last. In 2012, the couple separated. The reason was her husband's jealousy of producer Konstantin Meladze. And for good reason: Vera was indeed having a secret affair. In 2015, the lovers got married, and in 2023, they announced the annulment of their marriage contract.
5. Iryna Horova
Ukrainian producer and co-founder of the Mozgi Entertainment production center, Iryna Horova is a mother of two. She gave birth to her daughter Natalia at a very young age, 16. The father was musician Yurii Horovyi, a longtime friend of rapper Potap. After 11 years of marriage, they officially divorced, but they hadn't lived together for a long time even before that.
Soon after, Iryna started an affair with Potap. In 1999, the newlyweds got married. In 2008, they had a son, Andrii. Unfortunately, this marriage was not a success for the producer either. Since her chosen one began a secret affair with her colleague Nastya Kamenskykh, Horova divorced him.
Earlier, OBOZ.UA wrote about Ukrainian stars who became mothers at the age of 40 and more.
Only verified information is available on our Telegram OBOZ.UA and Viber. Do not fall for fakes!