Trending:
Timur Miroshnichenko returned to TV with his adopted son for the first time and shared why he has such an unusual name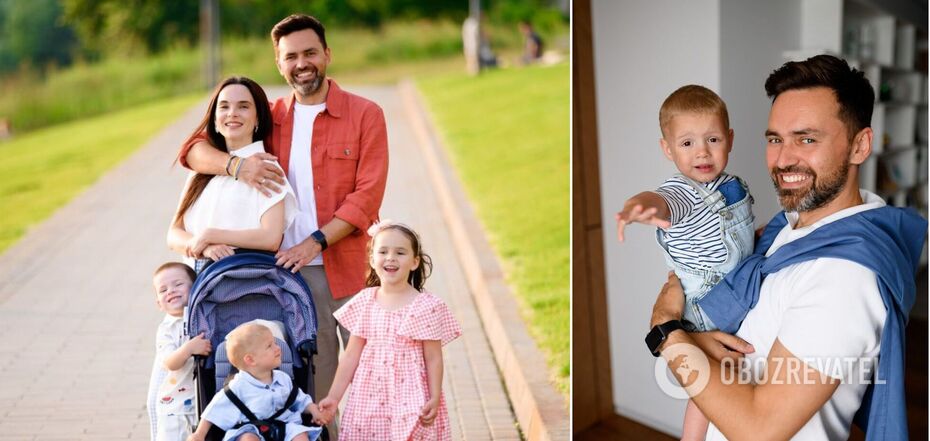 Timur Miroshnichenko and his wife adopted a child
Famous Ukrainian TV presenter Timur Miroshnichenko and his wife Inna have become parents for the third time. They adopted a boy from Zhytomyr orphanage. They shared why the adopted son chose an unusual and rather exotic for our country name Marseille in their first RV visit as the whole family.
The network assumed that the couple did not want to break tradition and chose the name starting with the letter "m" since their family has two older children Miia and Mark. However, the case is quite different. The story of the name was revealed on the air of "Snidanok z 1+1".
As it turned out, Marseille was the name of another boy, which was left in the maternity hospital immediately after his birth. He was in Kyiv. Having studied the adoption procedure, the Miroshnichenko family realized that they will not be able to take this child and have to wait.
"When we started looking for a child, even before we had the status, there was a boy who was abandoned by his parents. He was in Kyiv in the hospital. His name was Marseille. He was incredibly handsome with blond curls and blue eyes. But the people who told us about him thought that if there was a boy whose parents had given up on him, we could come and get him. We knew that he still had to wait about 1.5 years before he can be adopted. It's not even our neighborhood. However, we just couldn't and didn't want to go around that line. But this boy was gorgeous. We sat sadly and my husband said, "Don't worry, we will find our Marseille", Inna shared.
That's what happened. The couple came across the profile of another blond boy from the Zhytomyr orphanage. He looked like the little boy from Kyiv. The Miroshnichenko family decided to adopt him and named him Marseille.
Earlier, the showman also revealed that the boy was born prematurely and weighed only 1 kg 400 g, which is critically low. Because of this, the child was abandoned back in the maternity hospital. The presenter also shared how the boy was met by his brother and sister. According to Miroshnichenko, he and Inna prepared the older children for it immediately after they made the decision to take the baby from the orphanage.
As OBOZREVATEL wrote, earlier Timur Miroshnichenko got into an unpleasant situation on the Polish-Ukrainian border. The showman and his wife were returning home after Eurovision-2023, as well as the event in Cannes, as suddenly it turned out that they had an expired green card and had to pay a very large fine.
Only verified information we have in our Telegram channel Obozrevatel, Threads and Viber. Do not fall for fakes!