Trending:
Thousands of people shouted "Russia goodbye, Glory to Ukraine!" Verka Serdiuchka made a powerful show in Amsterdam. Photo and video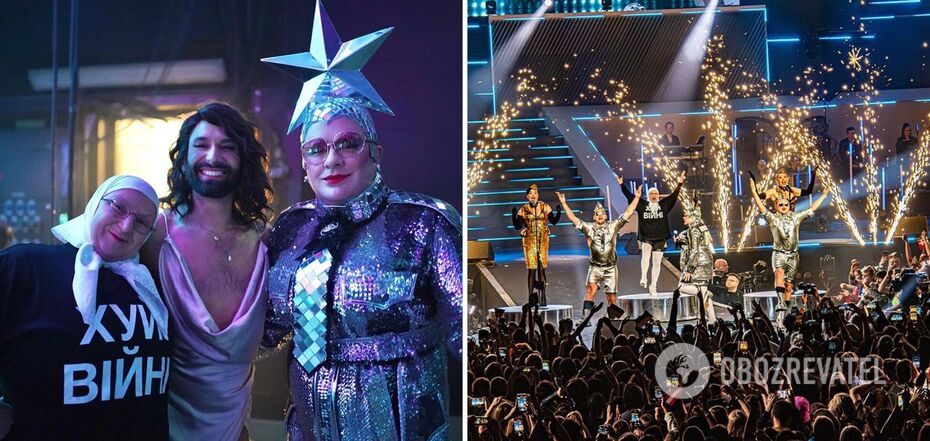 Thousands of people shouted ''Russia goodbye, Glory to Ukraine!'' Verka Serdiuchka made a powerful show in Amsterdam. Photo and video
On November 16, the Dutch capital Amsterdam hosted the annual Eurovision Song Contest Het Grote Songfestivalfeest. The largest concert arena Ziggo Dome was rocked by Ukrainian favorite Verka Serdyuchka. The star, who is embodied on stage by musician and impersonator Andriy Danylko, performed her Eurovision hit Dancing Lasha Tumbai as expected, but for the first time the Euro fans heard it in a new form. Now Serdyuchka sings exclusively "Russia goodbye!"
The Ukrainian artist has always made the audience go wild. This performance was no exception. Despite hearing the changed lyrics of the famous song for the first time, the crowd confidently chanted "Russia goodbye!" Footage from the show was posted on Serdyuchka's Instagram page.
Moreover, the fiery Verka never tired of shouting: "Ukraine is cool, Ukraine will win," as well as the world-famous words "Glory to Ukraine! Glory to the Heroes!" The audience in the hall responded to the celebrity's shouts.
Special attention should also be paid to Serdiuchka's "mother" - she came on stage wearing a T-shirt with the inscription "F*ck the war" and waved a blue and yellow flag during the performance.
"As soon as VERKA SERIDUCHKA sang the cherished words "Russia goodbye!", the audience of thousands began to sing along loudly. Overall, the performance was enchanting: Serdyuchka chanted "Ukraine is cool, Ukraine will win," her shoes flew into the audience, and Mama danced with the Ukrainian flag, charging everyone with her energy. Judging by the reaction, the audience liked the upgrade of the hit even more than the original," the artist's page says.
This year's lineup included the most famous Eurovision stars, including: Conchita Wurst, Käärij, ALIKA, Johnny Logan, KEiiNO, Cornelia Jacobs, Ruth Jacott, Bobbysocks, and our own Ruslana.
"The VERKA SERIDUCHKA team was touched by the support of the participants and organizers of Het Grote Songfestivalfeest. Behind the scenes, everyone from musicians to sound engineers and lighting designers came up to say warm words about Ukraine and express their faith in our victory," the message on the page of the favorite of millions says.
As OBOZ.UA wrote, Serduchka rocked Miami earlier. There she also sang the Ukrainian anthem, showed Zaluzhnyi and wished Putin to die. See how the concert went in our article.
The star also organized a patriotic show in New York. As it turned out later, the concert was disrupted. Moreover, the artist and her team were an hour late for their own performance.
Only verified information is available on our Telegram channel OBOZ.UA and Viber. Don't fall for fakes!