Trending:
They turned out to be Putin's fans: what famous Ukrainian and Russian stars argued with their relatives because of the war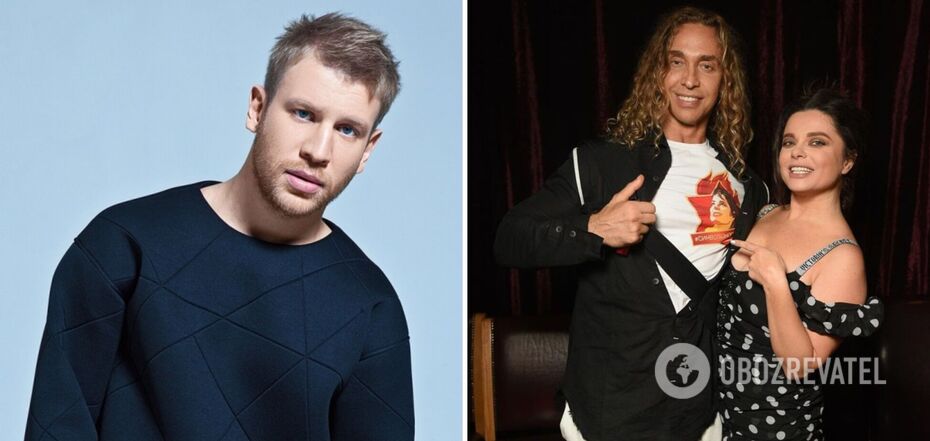 They turned out to be Putin's fans: what famous Ukrainian and Russian stars argued with their relatives because of the war
Many Ukrainians stopped communicating with their relatives and friends from Russia after the full-scale invasion. They had fallen victim to Kremlin propaganda and supported the terrorist war. However, they still tried to bring the truth to the citizens of the terrorist country by showing handmade videos of explosions and photos from bomb shelters. It soon became obvious that this was a waste of time. There was a split in the families of many celebrities.
OBOZREVATEL will tell the stories of some Ukrainian stars who broke contact with their families because of the war. We also recall Russian celebrities who did not support the war and argued with loved ones who turned to the dark side.
Ivan Dorn
The famous Ukrainian musician was born in Chelyabinsk, RF, but grew up in Slavutych in the Kyiv region. He worked in Russia for many years, but severed all ties with the terrorist country after February 24, including family ones. Dorn continued to communicate only with his cousin, who emigrated to Turkey after the invasion and condemned Putin's regime. The rest, as the singer said, piously believe that Ukrainians are "neo-Nazis" who must be destroyed.
Vitaly Kozlovsky
The performer, who has now gone to the front lines, has a half-sister and her family living in the Russian Federation. They are not much concerned about the fate of their relatives, as well as the entire Ukrainian people. Moreover, they believe in the "victory of Russia" and rejoice in the explosions in peaceful cities.
"I do not want to know them at all. For me, such people have pig faces, they do not know how to feel and sympathize ....One evening I was sitting at home in such a state that I didn't want to live. Then Lena from Moscow called ... My sister's husband was on the line, asking, "How are you?" I said, "I'm fine. Today I woke up from explosions and a missile hit Dnipro, destroying the house, where there were many children and women". And he was like, "Quiet, quiet, let's not discuss it, let's keep the family connection." He started to say something about blood... He finally said, "Russia will win anyway," Kozlovsky said in an interview.
Anton Savlepov and Irina Gorbacheva
Following the full-scale invasion, the Quest Pistols band reunited after a hiatus of more than 10 years to help Ukraine bring victory closer with charity concerts. The band members began translating old Russian-language hits into Ukrainian and severed all ties with the aggressor. The band's frontman Anton Savlepov, among other things, also divorced his Russian wife, the famous actress Irina Gorbacheva. They got married in 2021. After February 24, the Russian movie star addressed the public with a statement that she was canceling her concerts in Moscow and St. Petersburg. However, she did not dare to call the war "war", writing something about "the ongoing situation".
The most interesting thing is that Gorbacheva was born in Mariupol and lived in Kyiv for a while. However, she appeared at the propagandistic Moscow Film Festival in April 2023, where she happily praised "great Russian culture." Savlepov said that he has not communicated with the ex-lover at all for more than half a year.
Stasia Rovinskaya and Snezhana Egorova
Snizhana Yehorova and Stasia Rovinska are two Ukrainian TV presenters, mother and daughter, who became strangers other after the full-scale invasion. Even before February 24, Yehorova showed her true nature by issuing odes of love to Putin and Russia on social networks. Rovinska, on the other hand, repudiated her mother's words, trying to reach out to her after the start of the big war. However, the collaborator did not react to the video of her daughter and grandchildren from the basement, where they were hiding from Russian bombs. Stasia realized that she wanted nothing to do with the Putinist, even if it was her mother.
Liudmila Poryvai and Tarzan
Singer Natasha Koroleva is Ukrainian, but it's been a long time since she could be called such. She was silent after the full-scale invasion and continued to earn bloody rubles, as many traitors did, but she also supported Putin's regime, becoming the mouthpiece of Kremlin propaganda. Her husband Sergei Glushko, better known as Tarzan, played a big role in this. He is an avid Z-patriot and a true fan of the war in Ukraine. But the artist's mother Liudmila Poryvai sided with her native country and renounced her Putinist son-in-law. She posted a patriotic post in Ukrainian style and unsubscribed from the stripper because of his anti-Ukrainian statements.
Poryvai also went on stage with a blue-and-yellow bouquet at Iryna Bilyk's charity concert in Miami. The singer then called her stripper son-in-law a "f*cker" because he supported the occupiers. Koroleva's mom laughed in response.
Maria and Vladimir Mashkov
Maria Mashkova is known because of the Not Born Beautiful TV series. Now the actress lives in the United States, where she opposes the Putin regime and the war in Ukraine openly. Meanwhile, her father and colleague Vladimir Mashkov remains in Russia and entertains compatriots at propaganda concerts. He sincerely believes that his daughter does not understand anything and will soon come to her senses, while he continues to perform in a T-shirt with the letter Z (modern Russian swastika) in front of the occupiers. Maria said that she tried to prove to her father what evil he supports and glorifies but he refused to listen to her. Now the close people do not communicate.
As OBOZREVATEL wrote earlier, the famous Ukrainian actress Olha Sumska complained about relatives from the Russian Federation as well. They also became victims of Russian propaganda. The star admitted that she stopped communicating with loved ones from the terrorist country, who support the so-called "special operation" and try to convince her of their own "truth". Read our material to know more.
Only verified information from us on Telegram Obozrevatel and Viber. Do not fall for fakes!