Trending:
These three prints in clothing will age in a jiffy; you need to forget about them if you want to look younger. Photo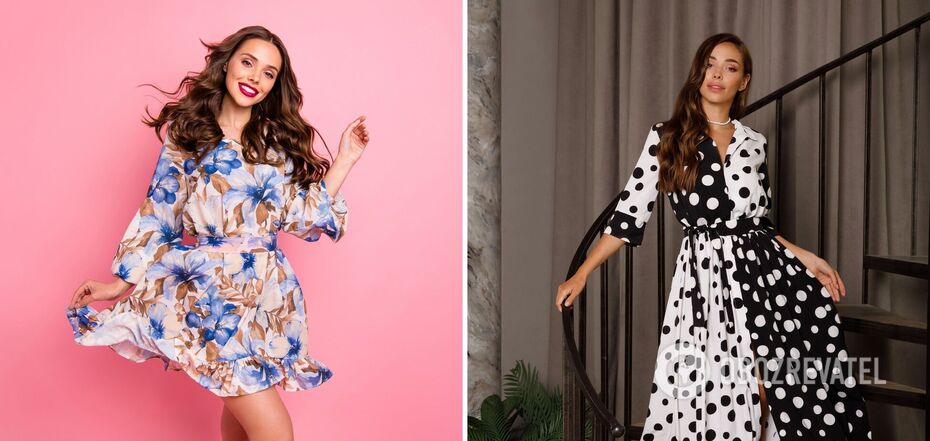 Prints in clothes that age
With the appropriate print on your clothing, you can achieve remarkable outcomes: elongate your silhouette, conceal extra weight, elongate your legs, and much more. Nonetheless, there are colours that function in precisely the opposite manner: they add undesired centimeters to your body and age you by several years.
Numerous factors should be taken into account, including the size of the images – the smaller they are, the better. Preference should be given to abstract and geometric patterns, while certain patterns should have been excluded from your wardrobe long ago – discover more in the OBOZREVATEL article.
Large flowers
Many individuals believe that this print enhances their appearance with femininity and romanticism. However, this assumption is entirely incorrect. Large floral patterns appear outdated and cumbersome. This design will visually add not only years but also a few kilograms. If you wish to avoid this, I recommend examining prints featuring smaller images and ensuring that there is sufficient background space between the flowers. This will significantly lighten the overall visual impression.
Black and white dots
Large polka dots on your clothing will create the illusion of a bigger silhouette, resulting in unwanted bulk around the abdomen and hips. Furthermore, if the pattern is in black and white, you run the risk of accentuating all the age-related changes on your face, such as wrinkles, lackluster skin, under-eye bruises, visible veins, and other imperfections. Ladies aged 40 and above should exercise extreme caution when it comes to contrasting items. Therefore, if you're fond of the polka dot print, it's advisable to opt for a smaller pattern and choose light, delicate colours that will lend a radiant and youthful appearance to your look.
Ethnic motives
Ukrainian ethnic motifs have gained unprecedented popularity. And it's fantastic! Embroidery on clothing unquestionably exudes trendiness and authenticity. However, let's focus on other prints featuring ethnic motifs. Take paisley, for instance, commonly referred to as the "Turkish cucumber" or the "tears of Allah." This pattern appears unstylish and has an aging effect on those who wear it. Often, women opt for scarves, shawls, and headscarves with this print, but it is advisable to prioritize monochrome accessories instead.
Previously, OBOZREVATEL discussed dresses that are unequivocally outdated. It would be advisable to refrain from wearing these models in the summer of 2023 if you wish to avoid appearing unfashionable. For further information, refer to our comprehensive article.
Only verified information is accessible on our Obozrevatel Telegram channel and Viber. Please avoid falling for fake content.