Trending:
These lipstick shades age absolutely all women: what to throw out of your makeup bag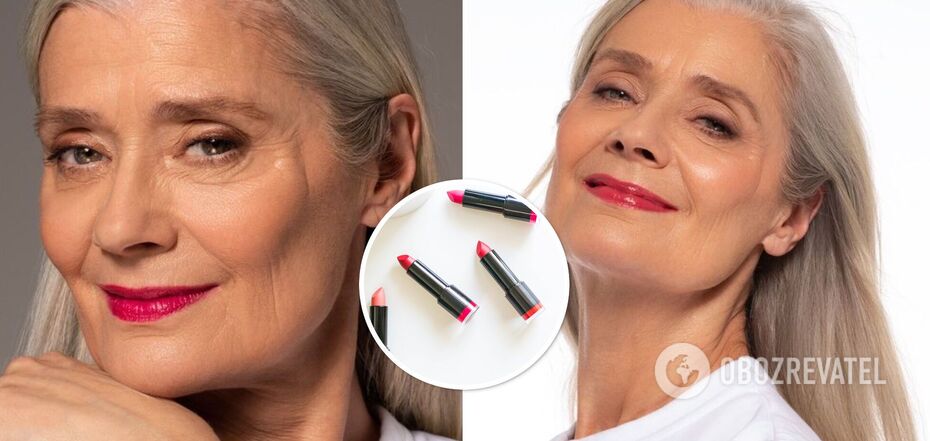 How to choose the right shade of lipstick and not emphasize wrinkles
In a world obsessed with youth and ever-changing beauty standards, there is an undeniable truth that is often forgotten: the allure of age and the grace it brings to those who have passed countless pages of life. And while the cosmetics industry often follows current trends, lipstick, an eternal symbol of elegance and self-expression, remains a constant companion for women of all ages. However, it is important to keep in mind the age-related features that can be inadvertently emphasized if you do not know the secret subtleties. Beauty experts have an opinion on this matter. Read on to find out what they think.
French makeup artist Ali Andrea urged older women to reconsider their attitude to certain shades of lipstick. According to her, flesh-colored lipsticks without a lip pencil can look inappropriate. The expert explained that the pencil adds volume to the lips and emphasizes their shape, while without it, the makeup can look flat, Express writes.
However, the flesh-colored lipstick shade is not the only one that the makeup artist blacklisted for aging skin. Ali advised to avoid cosmetics with a barely noticeable shine or with sparkles in the pigment. "It can draw attention to wrinkles on the face," she said.
The expert also gave up on lipsticks in cold shades. Instead, she recommended taking a closer look at purple, pink or peach pigments that will emphasize the natural blush. The makeup artist demonstrated the inappropriateness of cold shades on herself by painting her lips berry pink. "Now I look like I've been smoking for 20 years," she commented. After wearing this shade of lipstick, Ali's lips really began to look textured.
The Parisian woman advised young girls to apply a light shade on the lips, and then a darker shade in the center and on the cupid's bow. This will help create the desired shadow and add volume.
Another beauty guru, Andrea Harper, co-founder of the gluten-free and vegan cosmetics brand Red Apple Lipstick, believes that dark or red lipstick ages. "Although there are exceptions," she said. An older woman can make a statement with a bright shade or blood red lips, but these colors can also add years. Andrea explained: "The bad news is that bright, dark, or very red lipstick can draw unwanted attention to the mouth, wrinkles, and teeth."
Of course, you shouldn't categorically refuse to wear lipstick: according to the expert, there are some shades that have the exact opposite, anti-aging effect. Andrea advised older women to choose a "soft lip color," preferably a pink shade in combination with other basic makeup elements. The expert recommends using pink lipstick not by itself, but as a complement to the "whole" makeup: "If you use a good quality foundation, good concealer and neutral eye makeup, then the soft creamy texture of a more neutral color gives your lips a feminine, youthful look."
Earlier, OBOZREVATEL talked about a hairstyle that will help women look younger and is suitable for absolutely everyone.
Only verified information is available on theObozrevatelTelegram channel and Viber. Don't fall for fakes!