Trending:
"The shot was right in my head": Playboy heroine who lost an eye in the war tells about her injury and fight for life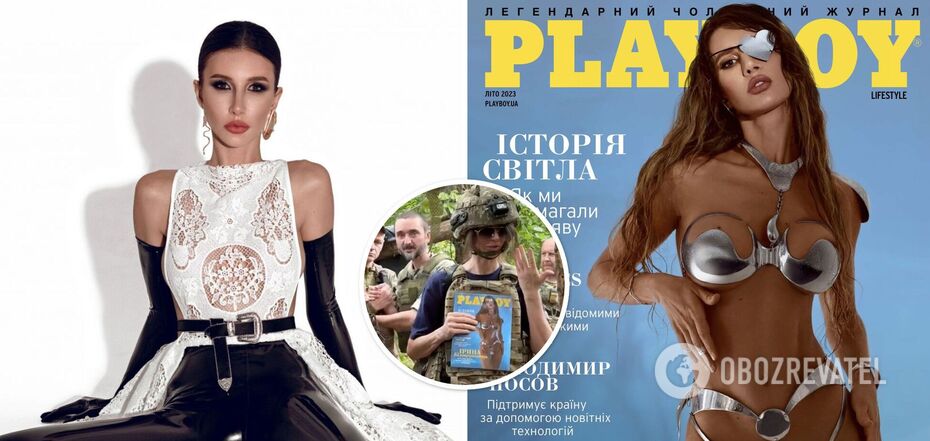 Iryna Bilotserkovets graces the cover of the first Playboy print issue during the full-scale war
An endovascular surgeon, successful model and TV presenter, happy wife and mother of many children, Iryna Bilotserkovets first learned first-hand what Russian aggression is back in 2014, when she was forced to flee her native Sevastopol after the occupation of Crimea. On 26 February 2022, she tried to evacuate with her children from the war-torn Kyiv region. In the end, Iryna was seriously injured, losing half of her face and one eye.
Despite this, she found the strength to overcome all the difficulties and return to normal life. Moreover, Iryna became the heroine of the first printed issue of Ukrainian Playboy during the full-scale war, which was sent to the frontline and will not be on the shelves. Bilotserkovets told about her injury, her difficult path and her desire to live in an interview with the "ЖВЛ" (to see photos and videos, scroll to the bottom of the page).
An enemy bullet changed the model's face and almost took her life, but Iryna proved to be stronger.
"All I remember from that day is hearing a shot. I told my children: 'I love you, get down, I'm dying'... I heard the shot, but I thought it was somewhere near me, but it was right in my head. When I was in the car, my head was twisted, but I could still see my children," the woman recalls with tears in her eyes.
The woman's next memories were from the hospital. She realised that she had lost an eye and suffered many other serious injuries. However, the only thing that worried Iryna was whether her children were safe.
"I understand that I am in a city hospital and that I am alive, but I cannot see. I can hear the tubes around me, I'm on artificial respiration. Then the doctor came and told me that the children were safe. When the operation was going on, I must have woken up, because I remember that I was missing one eye, but then I couldn't see with both eyes. There were injuries on my face from all sides," said Bilotserkovets.
After that, she underwent a long treatment in Germany. Iryna says that in Ukraine she would not have been able to receive the necessary treatment, so she could have died. Timely transportation to a German clinic, a 10-hour surgery and long-term rehabilitation helped the victim of Russian terror get back on her feet.
After returning to Ukraine, the model's younger son, who was 1.4 years old at the time, did not recognise his mother, who had changed. Iryna cannot remember that period without crying.
After the occupation of Sevastopol, the native Crimean woman and her family moved to Kyiv, where she was forced to build her life from scratch. Iryna found a job as a surgeon, but now, because of the Russians, she cannot return to her favourite profession. However, the Ukrainian woman is not going to despair and give up. Playboy has become one of the factors that helped her to feel the taste of life again.
"For most people, Playboy is like pornography. My mum talks to me and says: "You know, maybe you needed this. You seem to have come alive.' I say that I didn't come alive because of Playboy, I came alive when the Cultural Front offered us this trip to the Zaporizhzhia region. And there and from that moment on. This is the spirit that these men have, who defend their lands and families. This is what Playboy gave me," said the heroine of the cult magazine.
Iryna still has many more surgeries ahead of her, but she is already returning to normal life at a fairly rapid pace: she drives a car, goes to the gym and is even going to learn the profession of psychotherapist to help those whom the war also tried to break. There are difficulties, but the woman perceives them as challenges that she bravely accepts and overcomes.
"When you say hello to death, you start to appreciate your life even more. If you are left here, you have to do something. You can't let yourself go sour," Bilotserkovets concluded.
Earlier, OBOZREVATEL wrote about Ukrainian lawyer and soldier Masi Nayem, who lost one eye at the front as a result of an injury. He has become one of those who symbolise the strength and resilience of the entire Ukrainian people. The lawyer went to war back in 2015, serving in combat positions near Horlivka and then in Avdiivka, Donetsk region. In peacetime, he continued to fight. He fought for justice and transformation of his native country, although he was born in Afghanistan.
Only verified information is available on our Obozrevatel Telegram channel, Threads and Viber. Don't fall for fakes!