Trending:
The MELOVIN scandal continues: stand-ups from Biografiya respond to the singer's attacks and apologise to LGBTQ+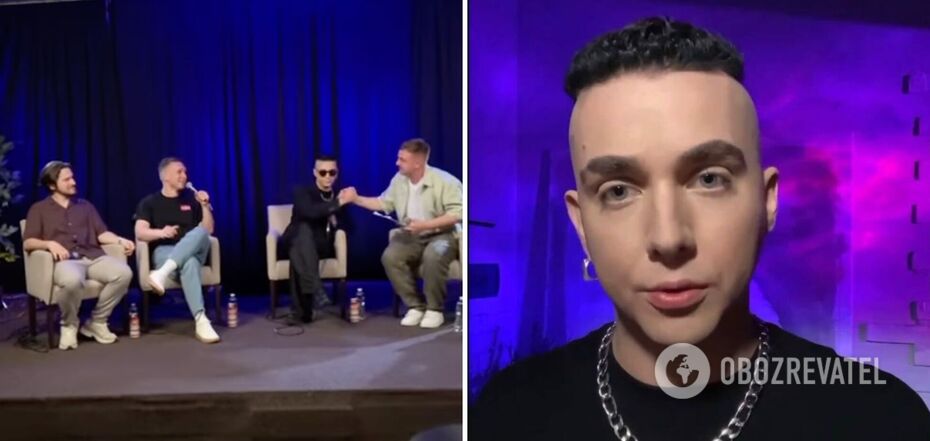 MELOVIN has not forgiven comedians for making LGBTQ+ jokes
The stand-ups from the show Biografiya, who were condemned by the singer MELOVIN (real name: Konstantin Bocharov) for harassing LGBTQ+ people on the show, apologised to the artist. They stated that the performer could have adjusted the jokes on his own and invited him to explain the "red lines" instead of throwing the microphone and leaving.
On a joint stream with Bocharov, the comedians offered to talk about this topic in public. This comment was posted on Instagram (scroll to the bottom of the page to see the photo).
The comedians thanked the star for agreeing to come on the show and not being afraid of jokes in his address. The "Biography" also explained that they allowed the singer to name taboo topics, but he allowed them to joke without restrictions.
"Already on stage, MELOVIN saw a folder with jokes and could read some of them. We did not hear any complaints or warnings. We apologise to everyone who was affected by this situation. We understand that such jokes hurt the LGBT community. Mel, if you were offended by this during the filming, you could have used our platform to explain to us, the audience and other stand-up comedians why such jokes are unacceptable," the comedians addressed the artist.
In their defence, they added that they are not part of the LGBTQ+ community, so they "do not shoot back" what jokes might be "beyond the red line".
"Let's establish a dialogue on this topic. We cannot listen when one of the participants in the dialogue throws the microphone. If you're ready, let's do a stream. Where there will be a public discussion of stand-ups and jokes on similar topics," the comedians suggested.
However, the artist did not accept the offer, explaining that the participants of the Biografiya show were populists, as one of the comedians had liked homophobic comments under the post.
"You are writing this post, and at the same time, one of your 'comedians' continues to like homophobic comments about me in the comments section. Populists. Good luck," MELOVIN wrote.
As OBOZREVATEL previously reported, MELOVIN made a coming-out at the Atlas Weekend music festival in 2021. On stage, he kissed a guy and then a girl.
Only verified information on our Obozrevatel Telegram channel and Viber. Don't fall for fakes!