Trending:
The leader of "Rondo", who called Russian children zombified, has set his sights on Crimea and dreams of making it an alternative to Europe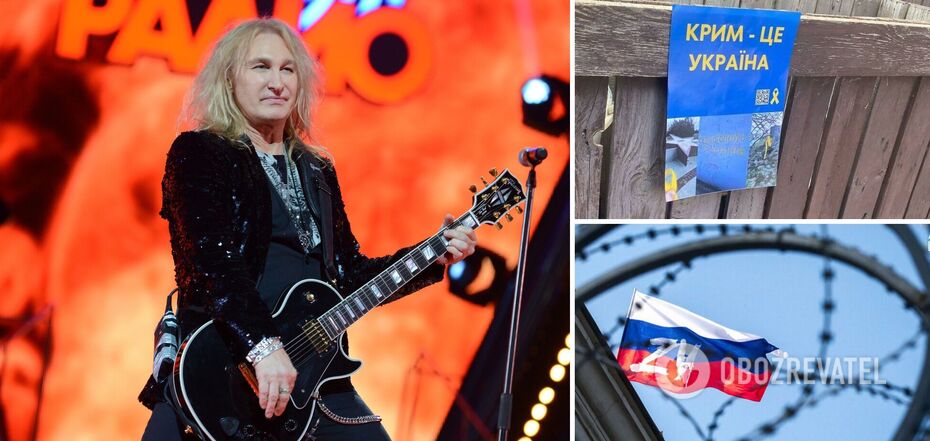 Oleksandr Ivanov of Rondo is going to live in Crimea
The leader of the once popular Russian rock band Rondo, Oleksandr Ivanov, who glorifies Putin's regime and the terrorist war, has dreamed of living in the Ukrainian Crimea annexed by Russia. The musician said that he intends to buy a house in Yevpatoria, which is supposed to become the new headquarters of his band.
Ivanov believes that it is necessary to build as many hotels and entertainment infrastructure for Russian tourists as possible on the occupied peninsula. Rocker openly says that Crimea should become an alternative to Europe, which is becoming increasingly inaccessible to travelers from the terrorist country due to sanctions. The Rondo frontman shared his thoughts in a commentary to propaganda media.
The Putinist proudly calls the annexed Crimea "Russian" and rejoices at how rich the region is, and how Russians have managed to illegally appropriate it.
"Crimea is developing very dynamically. Yesterday we were driving along the Tavrida highway - so many vineyards! Gorbachev once ordered them to be cut down, and thank God that everything is coming back. This has always distinguished European countries - Spain, Italy, France - in a favorable way. And now we have Crimea, and our Crimean wine," the war fan cynically rejoices.
As we have already noted, entering Europe is becoming increasingly problematic for Russian tourists, so they are looking for affordable alternatives for their vacation. Russians are in no hurry to go to local resorts, but they would go to the annexed Ukrainian territories for the love of it. Ivanov cannot get enough of the fact that Crimea is now supposedly "Russian," and therefore it is possible to avoid visiting "rotting" Europe because of the sanctions.
"I wish there were more good hotels, more promotion for Russian tourists. Because we know Europe well, I've traveled all along the Spanish coast myself, it's very similar, but the nature is not comparable. And I believe that Crimea is one of the world's pearls, and if everything is done right here, Crimea will flourish. It has become more difficult to travel to Europe, and if air travel is opened, it will take two hours and you will be in paradise, in the good sense of the word," the odious Putinist does not hide his happiness.
Moreover, the performer demonstrated his "knowledge" of history, stating that "the Crimean land is abundantly watered with Russian blood, and a cultured person should have this knowledge." It was with this under-argument that the rocker tried to humiliate his colleagues who do not support the occupation of Crimea and the war in Ukraine in general.
It is worth noting that the Rondo band visits the peninsula regularly. These visits are not without cynical shows. Not long ago, the band entertained the wounded occupiers in hospitals in Feodosia and Sevastopol.
"Supporting our people is a sacred duty of any Russian person. This is an opportunity to show your civic position, support morale and express gratitude to the soldiers who defend Russia," the Kremlin jester said.
In addition, Ivanov firmly believes that by speaking in front of Russian terrorists and murderers, he is "educating" the younger generation of Russians, who are now allegedly "zombified with false information."
"If, for example, we, children of war children, received correct information under Soviet education practically from kindergarten, now this is lost. Our children are zombified, we have to explain to them what the Great Patriotic War, the First World War are... We need to explain to Russians what a country is, what a homeland is, to show real patriots on central channels who would explain what is happening, because many people do not even know that a special operation is underway in Ukraine and that guys are dying in the fight against fascism... We must unite around President Vladimir Putin. If not for him, there would be nothing left of the Russian Federation," Z-patriot sucked up to the dictator.
As OBOZ.UA previously reported, People's Artist of the USSR Oleksandra Pakhmutova, who thanked Putin for Crimea, cynically used children from Donetsk. Follow the link for details.
Only verified information is available on the OBOZ.UA Telegram channel and Viber. Do not fall for fakes!