Trending:
"Thanks to Xi Jinping for the knife in the back": how Solovyov got hysterical over the phone conversation between the Ukrainian and Chinese leaders. Parody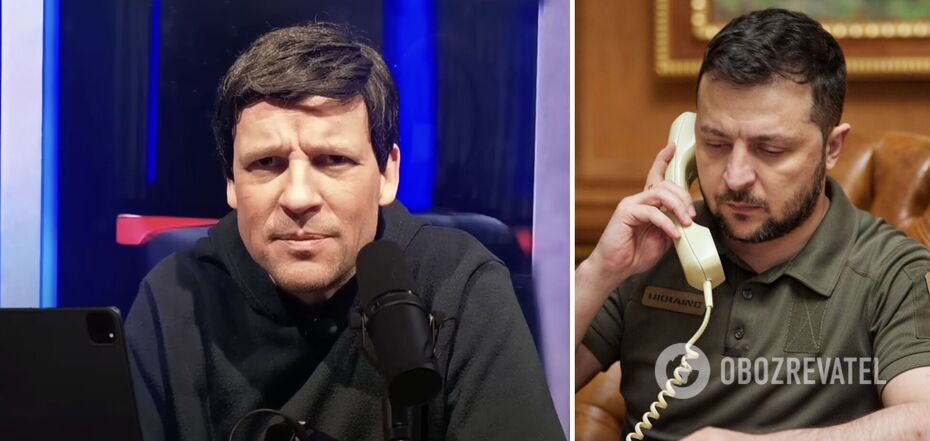 Yuri Velykyi made a parody of Solovyov
The phone calls between Ukrainian President Volodymyr Zelenskyy and Chinese President Xi Jinping came as an unpleasant surprise to Russians who had hoped to gain an ally in the Chinese leader. In this regard, Ukrainian comedian Yuriy Velykyi made a comic parody of Russian propagandist Vladimir Solovyov, who was hysterical on air about the conversation between Xi Jinping and Volodymyr Zelenskyy.
His video received 300 thousand views in a day. The video can be found on the star's YouTube channel (scroll to the bottom of the page to see photos and videos).
Velykyi's parody began with Solovyov's "transparent" hints that he did not like the news about the phone conversation between the two leaders.
"What do you call this? Thanking Xi Jinping for the knife in the back? If anything, it was neither a stab in the back nor a knife. It was a blow below the belt. And you can't even call it a stab. It was more like a sneaky Chinese infiltration while we were gullibly getting off our knees as a country," the parody's hero complained.
According to the "propagandist", the Chinese president's call was a "spit in the face" to Russians, who are "no strangers" to such things.
"We are with you wholeheartedly. If you want to ask for weapons, please do. Do you want them to ask you for help? No problem. Help us, our sir. What other humiliations have you not had enough of from us?" - Solovyov shouted.
The comedian also ridiculed Russia's statements about its "friendship" with China, which Russia will no longer be able to boast about after Zelenskyy and Xi Jinping's conversation.
"How disrespectful of your ears you have to be to listen to his truth about our big lie for an hour. On this occasion, I want to ask you one question: where were you when you were smoking bamboo for 8 years? Were you? We were smoking our own bamboo, Chinese bamboo," Velykyi joked.
Earlier, OBOZREVATEL wrote that the comedian recorded a funny parody of Ani Lorak's shameful interview with a Russian propagandist. You can watch it in our material.
Only verified information is available in our Obozrevatel Telegram channel and Viber. Do not fall for fakes!