Trending:
Supermodel Bella Hadid talks about the serious illness she fought for 15 years, showing frightening photos from the hospital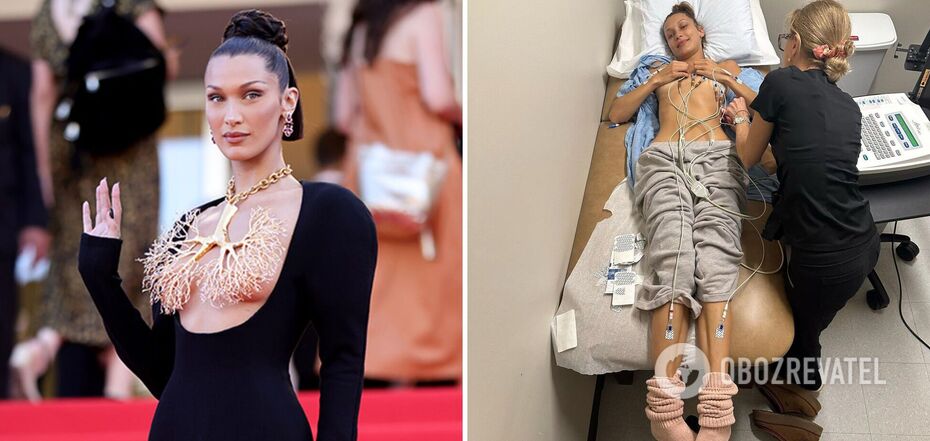 Bella Hadid talks about the serious illness she fought for 15 years
The world-famous American model Bella Hadid, who is considered the most beautiful woman in the world, has been battling Lyme disease caused by a certain type of tick bite for 15 years. After a recent exacerbation of her serious illness, the catwalk star decided to take her health seriously and underwent a one hundred-day treatment course, sharing the results with her fans.
Thus, for almost four months, the 26-year-old celebrity has not appeared in public. As can be seen from the footage posted on Instagram, she was treated on an outpatient basis: she visited the hospital on her own and also had IV drips at home. The photos scared many of her followers, who simply did not recognise the world-famous model in the illness-ridden patient.
"Firstly, I'm fine, you have nothing to worry about. Secondly, I wouldn't change anything for the world. If I had to go through it all over again to get here, to this very moment I'm in right now, with all of you, I would do it all. It made me who I am today. The universe works in the most painful and beautiful ways, but I have to say that if you fight, things will get better. I promise to stay strong, to believe in myself and in the best, and then the clouds will begin to clear. I feel very grateful for these 100+ days of treatment, almost 15 years of invisible suffering - it was all worth it," Hadid said.
The supermodel thanked her mother for her support, who "took care of all her medical records", as well as the doctor and the team of nurses who took care of her for these 100 days and helped her get back on her feet.
Hadid showed her photos taken during the treatment period. The star was under drips almost all the time. She has a bandage on her arm to cover the catheter. In addition to doctors and relatives, Bella was accompanied by a dog named Petunia all this time.
The shots of the model with dozens of sensors connected to her, or of her exhausted after the drips - without make-up, styling and her usual luxurious looks - stunned the network. At the same time, Hadid herself assures that she chose the most "positive" photos from all of them.
"I tried to choose the most positive pictures. Because no matter how painful this experience was, the result was the most instructive in my life, filled with new friends, new visions and a renewed brain," said the "most beautiful woman in the world".
As OBOZREVATEL previously wrote, the French fashion house Coperni decided to surprise the audience with an unexpected performance at Paris Fashion Week. Right on stage, a team led by Spanish designer Manel Torres created a spray-on dress for Bella Hadid, who took to the catwalk in lingerie and sandals. Read more in our article.
Only verified information is available on our Obozrevatel Telegram channel, Threads and Viber. Don't fall for fakes!