Trending:
Stripes, waistline accents and more: seven tricks for short women to look luxurious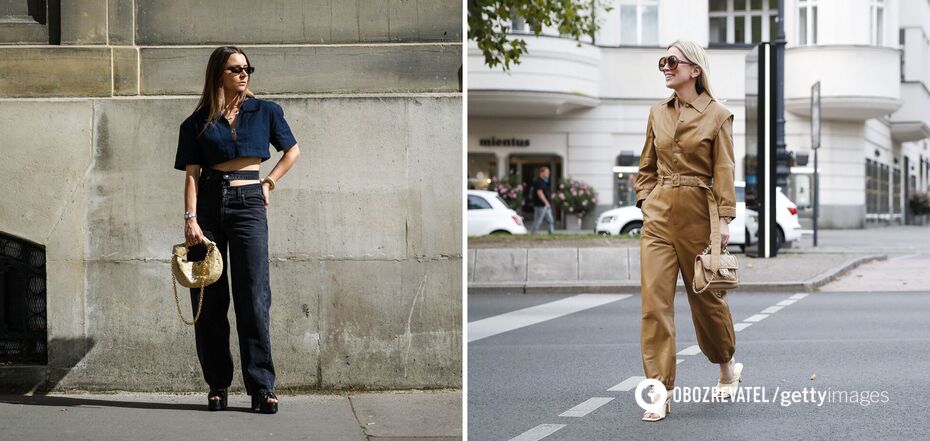 Tips to look taller if you are short
Pretty girls of short stature most often seek to stretch their silhouette and appear taller through clothing. Properly chosen outfits can not only emphasize petite, light and graceful "thumbelinas", but also add confidence, special charm and, of course, a few visual centimeters in height.
OBOZREVATEL offers to read about fashion tricks that will help short ladies to achieve the desired result. These tips will help set the right accents for the look emphasize all the advantages of the figure and hide the likely "imperfections".
Wear crop tops
This rule does not mean that you now have to give up things below the navel. However, look out for tops, shirts, jackets and T-shirts that are no lower than your hips. This will even out the proportions between your torso and legs. Combine them with jeans with a high waist or even a skirt. The image will turn out attractive and especially relevant for summer 2023.
Show off the ankle.
Short ladies are advised to avoid pants that are too long. Besides saving yourself from sloppy, stretchy hemlines and skinny jeans, showing your ankle between the end of your pants and the beginning of your shoes or sneakers will make others think that you are at least 5'9"... even if in reality you're just under 5'9".
Vertical stripes are an unstoppable helper
It's no secret anymore that vertical stripes create the perfect illusion and add height. If you don't like full-length stripes, try tuxedo pants with side one, as they'll give the same effect with a much simpler look.
Roll up the sleeves.
Normally, if your shirt sleeves are a few inches below your wrist, you run the risk of looking sloppy. An easy solution is to roll the sleeves up to the middle of your arm or elbow. It doesn't matter if you make neat creases or not. Same as with the previous advice, this will make your arms look longer, thereby visually adding a few inches to your look as a whole.
Emphasis on the waist
Drawing attention to the slimmest part of your body will make almost any garment look like it was sewn just for you. Whether you choose a blazer with a built-in drawstring, add a leather belt to the waist of your basic tight and flared dress, or simply choose a blouse that is slightly fitted in the midsection, there are many ways to test this flattering trick.
Complete your closet with a jumpsuit
Overalls create one long vertical line and therefore visually elongate the silhouette and make the figure look thinner and more elegant. Such clothing creates the appearance of a perfectly proportioned figure.
Choose V-necklines
Clothing that allows the eye to move vertically along your figure is the most attractive. But sharp lines, such as right angles that form a square neckline, often create the opposite effect. Basically, they can make your torso look shorter. So go for a V-neckline. It looks good on all body types and adds height.
Previously OBOZREVATEL wrote about what colors in clothing do not suit brunettes. They will add a gloomy and sad look and will emphasize all the "imperfections" of the face. To learn which colors we are talking about, read our article.
Only verified information on our Telegram-channel Obozrevatel and Viber. Do not be fooled by fakes!