Trending:
Six super-strength makeup secrets that really work. Photo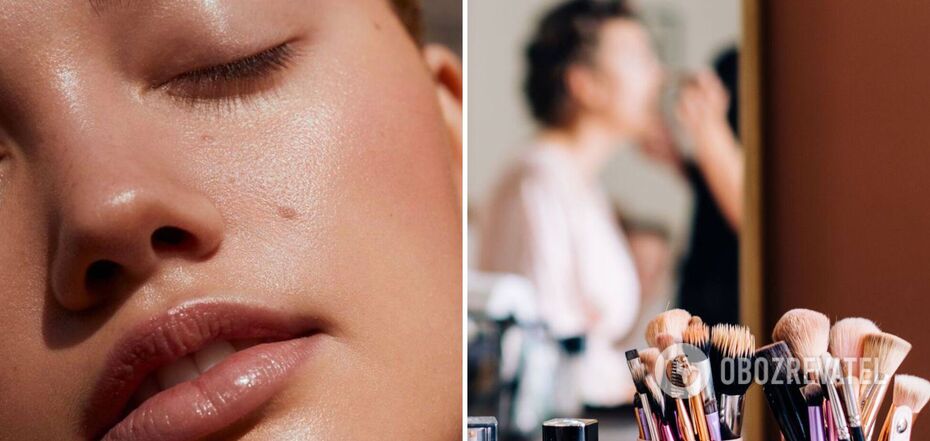 Now you don't have to fear that your makeup will smudge
Perfect makeup for 10 to 15 hours is no easy task, especially in the summer. But it's also not impossible. And you don't need to use expensive beauty products or fixing sprays.
OBOZREVATEL tells you a few useful tricks that you will use in the warm season. For some products, makeup artists have found a "special" purpose (to see a photo, scroll to the end of the page) .
1. Use a moisturize
Even if you have oily skin, you should moisturize your face before applying makeup. Why, you may ask? First, moisturized skin produces less sebum, second, it absorbs cosmetics better, and third, it is smoother. But avoid creams with matte formulas because they create a dull layer on which the fluid looks artificial. For oily and combination skin, use beauty products with a light, watery consistency.
2. Apply aloe gel instead of a base
After applying moisturizer, wait a few minutes until it absorbs and then use a natural base in the form of aloe vera gel. This product is a good substitute for synthetic cosmetics with silicones - it doesn't clog pores, absorbs quickly and doesn't overload the skin.
3. Secure the aloe gel with powder
To extend the staying power of your makeup, apply powder on top of your base and then your foundation. This is a trick that further reduces the appearance of pores and ensures better adhesion of the fluid to the skin. Just remember, the powder should be clear and fine enough to give your face a velvety smoothness.
4. Use a brush or sponge for foundation
Chances are your makeup is wearing off quickly because you're applying makeup with your fingers. According to beauty industry experts, the liquid's contact with the warmth of your hands weakens the properties of the makeup product. That's why it's better to apply it with a brush or a beauty blender.
5. Buy an oil-free foundation
Toner with oils in it moisturizes the skin better, but causes makeup to "run off" from the face. For the summer season, buy a separate product with a lighter consistency.
6. Use a special application technique
If you rub beauty products into the skin, the foundation and powder won't stay on the face as well. It is best to "stamp", that is, press the product into the skin, pressing the brush to its surface. After that, it is recommended to shrink the makeup with circular movements.
Earlier OBOZREVATEL wrote how to make a rejuvenating makeup. For this, you will need a light foundation, light concealer and blush. For the rest of the secrets, follow this link.
Only verified information on our Telegram-channel Obozrevatel and Viber. Do not be fooled by fakes!