Trending:
Pyvovarov's conversation with an Armed Forces soldier who lost his eyes in the war brought the network to tears. Video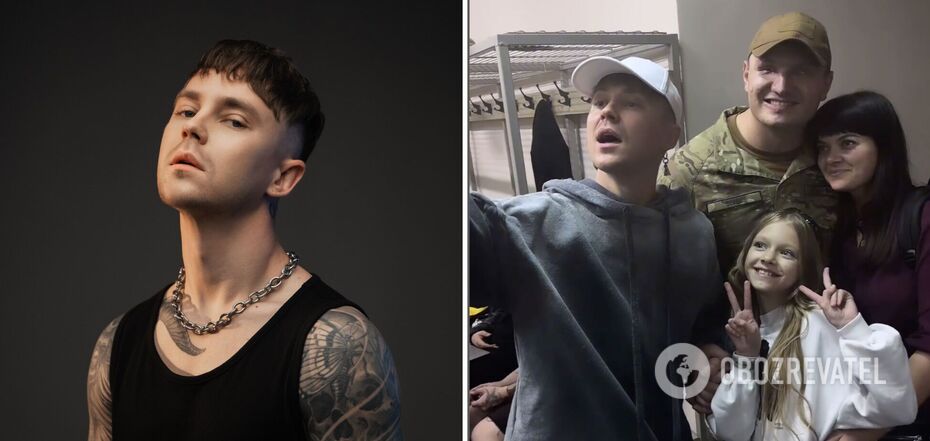 Artem Pyvovarov impressed with his act for a soldier who lost his eyes in the war
During his concert in Vinnytsia, popular Ukrainian singer Artem Pyvovarov saw Ukrainian Armed Forces soldier Vitaliy Veres, who lost his eyes in the war, in the audience. The musician went down to the defender to thank him for his heroism.
After that, Pyvovarov decided to make a gift to the soldier's family. The artist shared a touching video of his communication with the soldier on his personal Instagram page, writing: "We appreciate and are proud of every Defender! Glory to the Heroes" (to watch, scroll to the bottom of the page) .
According to the footage, the singer stopped his performance when he saw a blind soldier in the audience. He approached Vitaliy while other fans in the audience shouted: "ARMED FORCES!"
Pyvovarov hugged the hero and said: "Thank you for coming. I'm glad to see you, I'm proud of this opportunity. Thank you! Thank you for everything you do for our country."
After that, the artist saw that Vitaliy had come to his concert not alone, but with his wife and daughter. The singer called his manager over and said that from now on, the military family would be able to attend his concerts anytime in any city for free.
After the concert, Pyvovarov also met with the Veres family backstage and had a touching conversation with them. He once again emphasized the warrior's daughter: "If you want to come back in 5 years or 10 years, if your love remains with me, I will be happy to see you every year at every concert for free."
Internet users in the comments admitted that the artist's communication with the soldier moved them to tears. They thanked the soldier for his heroism and the star for his conscious stance and big heart.
"Artem, your actions are worthy of respect. I don't remember artists of this level with such actions and sincerity. Thank you!", "It's tear-jerking. Artem, you have a big heart.", "We are proud of every one of our soldiers! We are proud of you! Thank you", "This is an act! And the most important thing is that the soldier felt needed and not forgotten!", "It's impossible to hold back tears. You are an incredible person", "I was moved to tears, thanks to every defender! To you, Artem, for your sensitivity and cordiality, I think it is very nice for a girl," commentators leave.
As OBOZREVATEL previously wrote, Artem Pyvovarov stopped his performance when he saw a boy crying near the stage. It turned out that he had lost a loved one. Read more in our article.
Only verified information is available on our Obozrevatel Telegram channel and Viber. Don't fall for fakes!