Trending:
"Putin, I hope you die": Danylko answers how artists influence politics and compares Serdyuchka to Chaplin, who was Hitler's enemy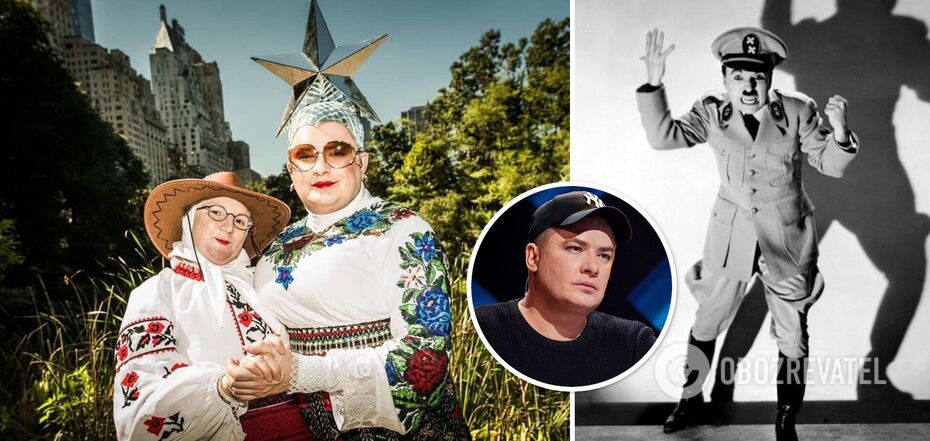 Danylko answered how artists influence politics and compared Serdyuchka to Charlie Chaplin
Famous Ukrainian musician and impersonator Andriy Danylko is convinced that in today's reality, no one can be "out of politics", let alone artists who have a great influence on the audience. The singer is confident that his statements against Russian propagandists, as well as his mockery of dictator Putin, anger and irritate the aggressor, and this is a great strength.
The artist compared Verka Serdyuchka, in whose character he performs, to the legendary Charlie Chaplin, who once made the film The Great Dictator, a political satire on Nazism and especially on Adolf Hitler. Back then, the actor disguised himself as the Fuhrer and mocked him, and today Serdyuchka, as Danylko noted in an interview with Present Time, is not afraid to laugh at the modern Fuhrer Putin.
"Think of Charlie Chaplin's The Great Dictator, when he spun the globe on his finger, playing Hitler. And he was Hitler's personal enemy, because people laughed at Hitler, so I shout these chants from Serdyuchka: "Putin, I hope you die," Danylko said.
When the Kremlin's mouthpieces say or write nasty things about Serdyuchka, Danylko realises that these are their pathetic attempts to respond to the harsh statements of the Ukrainian public favourite about the war, Russian propaganda and aggression.
"Of course, we influence politics because it's annoying. Why does Serdyuchka sometimes use swearing in some of her statements? Let's say, for example, during the war, even in the videos there are references to Russian propagandists who were so happy when our tour was postponed, they were just rejoicing: he's not coming, he died, he got drunk, he broke something else, or a double will come. They are deliberately screwing with the public so that people are afraid to buy tickets. It's only natural. There has to be counter-propaganda on our part, and when we shout 'Skabeeva is a b*tch', I'm happy and the audience is happy," the musician commented.
Danylko is convinced that it literally "kills" the Russian side when Ukrainians, including media personalities, openly mock them and thus humiliate them.
"Have you seen this Simonyansha in a suit in Adler? We talk about that, of course, and we make fun of it, and it pisses them off. When you are still somehow parrying with them, it's okay, but when you laugh at them, this is what we said at the beginning about Chaplin - a little dictator. How does it feel to laugh at the Fuhrer? But it just kills them, it annoys them, they would probably like to take my head off, but..." - the artist said.
Earlier, OBOZREVATEL wrote that the famous Latvian singer Laima Vaikule's charity festival Laima Rendezvous took place in Jurmala, Latvia, which this year was dedicated to helping war-torn Ukraine. Verka Serdyuchka sang "Russia, Goodbye!" at the festival.
Only verified information is available on our Obozrevatel Telegram channel, Threads and Viber. Don't fall for fakes!