Trending:
Psychotherapists named 8 types of toxic friends to exclude from your life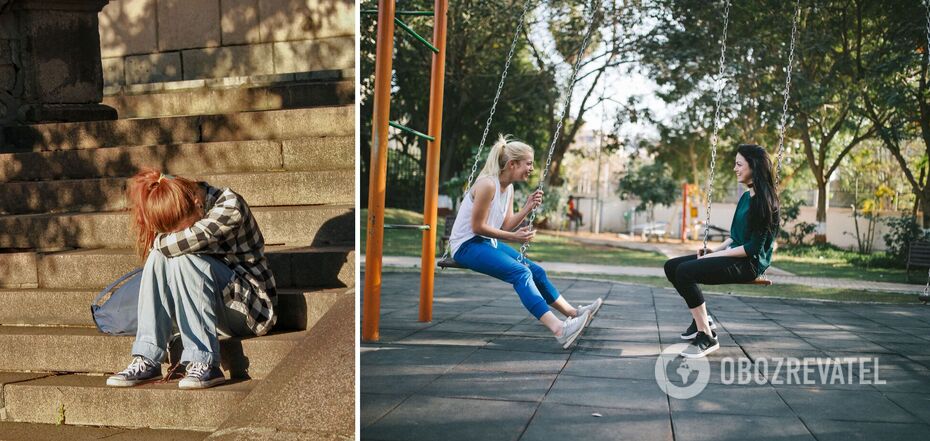 8 types of toxic friends. Source: Unsplash
Friendships are an important part of human life and can affect emotional and psychological well-being. However, not all friendships are healthy and positive. There are some that can be a source of stress, negative emotions, and even harm our mental health.
Mental Health America reports that 84% of women and 75% of men have had toxic friends at some point. A toxic friendship is one example of a relationship that can cause pain. However, this phenomenon is not easy to notice, let alone confront, when it involves a loved one. What are the main signs that a friendship has become toxic? How does it affect our lives? And how can we deal with a toxic friendship without harming either party?
Impact and signs of a toxic friendship
"There are many ways to be toxic, and many ways it can affect another person," says psychotherapist Molly Speisman. The consequences can be low self-esteem, lack of confidence, blurred personal boundaries, increased stress and anxiety.
Rachel Fleischman, founder of Bliss Counseling and licensed psychotherapist, gives several warning signs that you may be friends with a toxic person. Among them:
You are concerned and embarrassed by your toxic friend.
You are sure he is talking behind your back, and you are doing the same.
His advice lacks compassion and seems one-sided and unrealistic.
You feel exhausted and/or anxious in his company.
You doubt your friend's intentions and constantly feel like they are letting you down.
You feel like you are helping your friend without getting anything in return.
There is constant competition in your relationship.
You feel the need to justify your friend's bad behavior.
Why not just break this toxic cycle?
Even with these red flags, people continue to engage in toxic relationships. Molly Spassman suggests that there is a perception that leaving an old toxic friendship is easier than starting a new one: "The alternative seems to require more work. This may also be reflected in the dynamics within the group of friends."
Rachel Fleischman says people tend to hold on to painful friendships instead of setting firm boundaries. She said: "We imagine discomfort and pain, and maybe even punishment, as a result of changing the dynamic. This can easily outweigh the desire to get rid of negative ties."
Types of toxic friends
If you think that someone in your life fits the bill for a toxic friend, see if they fit one of the following descriptions.
1. The friend who always "needs"
Fleischman says that overly needy friends should be cut out of your life if you are constantly giving to them and they don't reciprocate. "It's a total energy drain and mental drain," she adds.
2. The friend with the "half-empty glass"
This is a person who positions himself exclusively as a pessimist. Fleischman says that when you are around such a person, or even just chatting on social media, your attitude towards certain circumstances can change for the worse. "Often their negativity spreads to you without you realizing it," she says.
3. The joker friend
Such a friend may make sarcastic remarks about you, say unpleasant things in the presence of others."But when you ask them, they say they're just kidding, even though the jokes are humiliating and undermine your self-esteem," says Spiesman.
4. The gossipy friend
"A friend who is constantly gossiping with you about someone else is bound to be talking behind your back," Fleischman warns, "and while it may seem innocent , it's something to be aware of. Spiesman also says this type of friend thrives on "conflict, drama, and chaos."
5. The friend who lacks empathy
Fleischman says that a friend who doesn't consider the feelings of others and has no empathy shouldn't be kept around. "Compassion and caring for others are qualities we should all have ," she adds, "It' s important to be able to appreciate another person and take their feelings and points of view into account.
6. A friend who is not "white" jealous
This is someone who blushes with envy every time you share something positive. A jealous friend is often toxic, or as Spiesman describes it, "they always make you think that your accomplishments are worthless."
7. The friend who plays the victim
Fleischman explains: "A friend who plays the victim in any situation will not find peace and happiness. He or she will not be able to provide you with the support that is so important in a friendship."
8. Something between a friend and an enemy
It's really unpleasant to be around someone who is hostile 24 hours a day, without breaks for lunch or weekends. "A hostile friend is someone who constantly disagrees with what you say and doesn't know how to be happy with others ," Fleischman says. " Often these people are insecure. Over time, their constant rejection will become exhausting."
How to end a negative relationship
Your well-being and mental health should be the priority. In the event of a "breakup," a toxic friend will need additional support, but that is their own journey. It's important to realize that if you feel terrible around this person, you probably won't be the support they need.
Molly Speisman recommends starting with an open and honest discussion, although it can be a difficult decision. "If it seems appropriate and safe, I always recommend talking to someone first," she says, "See if you can verbalize the feelings your relationship is causing and if there is a way to continue the relationship in a non-toxic way.
But let's say that your friend is not open to talking. In this case, the therapist says that you can directly state that you can no longer be friends because it is negatively affecting you. "If you are part of a large group of friends, I would suggest not planning a one-on-one conversation and making sure you feel supported by other friends if they are going to be around," she advises.
If a friendship cannot be improved, Fleischman recommends unfollowing and unfriending the person on all platforms: "Stop all communication with them and gently acknowledge that you cannot change them-trust that you can move on." Respect for your own needs should motivate you. "By following these steps, you will find peace of mind and improve your mental health, making you less likely to encounter toxic people in the future," Fleischman says.
Spaceman says that once you remove a toxic person from your life, you'll likely feel "a great deal of relief" and "a release of tension you didn't even know you had."
"Your self-esteem and confidence will also increase as a result of ending a toxic friendship. You may feel more empowered to make independent decisions. You deserve to be surrounded by friends who support and respect you and contribute to the life you want to live," he said.
Earlier, OBOZREVATEL wrote about eight phrases that destroy relationships. Psychologist Iryna Deniezhna said that it is better not to tell a man in order not to hurt him.
Only verified information is available on our ObozrevatelTelegram channel and Viber. Don't fall for fakes!