Trending:
Psychologists have named 10 "pink flags" in relationships that should not be ignored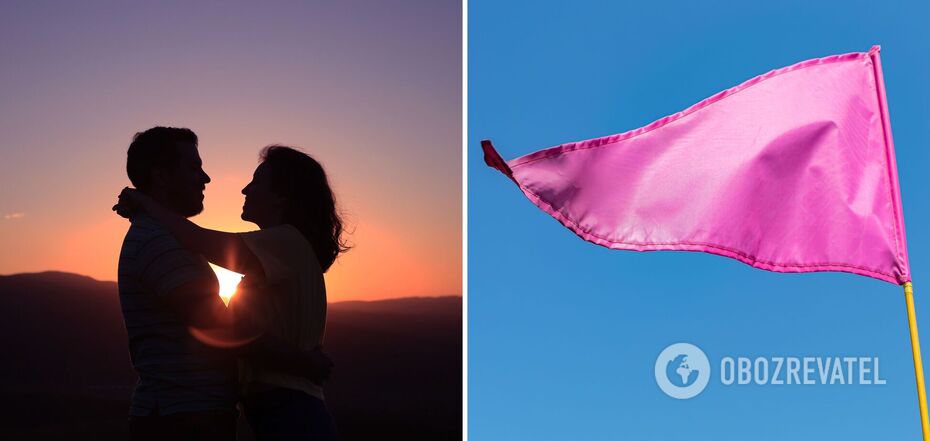 It is necessary to get rid of ''pink flags'' before they become ''red''
Today, people often talk about "red flags" in the world of dating and relationships. This "term" refers to signs of incompatibility between partners or toxic behavior in relationships. But there is another term, "pink flags".
"Pink flags are things that you notice that bother you," says Tracy Ross, a licensed social worker specializing in couples and family therapy. "Maybe if something like this happens once or twice, you'll forget it quickly. But then you start to pay attention to such details and ask yourself: "Could this 'flag' interfere with our relationship? Am I overreacting? How do I solve this?" she adds.
"Pink flags are usually more subtle and less serious than red flags, but they can still pose a risk to a relationship.
"I think it's important to be mindful of the pink flags in a relationship, to use them as opportunities to grow together and individually," says Alisha Jenny, a therapist and owner of Modern Love Counseling in Denver. "Never ignore your intuition, but also try to analyze the red flags to make sure you're not making assumptions and projecting them onto your partner," the expert recommends.
Although pink flags can have different signs, as it is highly individualized, some appear more often than others. Relationship experts give 10 such examples:
You never fight
"If you've never had a fight before or fight very rarely, this could be a pink flag. This is often an indication that both parties are not authentic enough in the relationship and/or do not want to show their weaknesses. This can block the development of the relationship," says Jenny.
She emphasized that fighting is not always a bad thing: couples need to learn how to resolve conflicts effectively in order to have a good relationship.
"It's a pink flag when difficult or uncomfortable conversations are avoided," Ross said. Instead of avoiding problems and letting them build up, try to address them right away and learn how to communicate with each other in difficult situations. Otherwise, this "pink flag" can turn into a "red flag".
You speak different "love languages"
"A potential 'pink flag' could be a difference in how you express love and how you want to receive it," says Rachel Neadle, a licensed psychologist and co-director of the Institutes of Contemporary Sexual Therapy. "If you really enjoy physical touch, such as holding hands, kissing, and cuddling, and your partner doesn't, this may be normal in the beginning while the 'blooming period' is going on. But later on, it can become a source of irritation for your partner," she adds.
It is helpful to learn and talk about your "love languages" to understand how best to express your warm feelings to each other.
Damona Hoffman, dating coach at OkCupid and host of The Dates & Mates Podcast, noted that many people want to communicate with their partner throughout the day. "One of the most commonly asked questions on my podcast is about texting," she said."For some people, texting on a daily basis is compulsive, while for others, it's anxiety-inducing to not be in touch with their partner," she adds.
You feel like your partner is hiding something
"Not sharing what came before you or who was in their life can be a pink flag," Ross says. Of course, it's natural to want to know everything about your partner's life and experiences, and it takes time. But, sometimes you may feel as if this information is being deliberately withheld from you.
"If you feel like your partner is hiding something from you, it could be a 'pink flag' that needs some specific feedback to help you understand if you're being overly cautious because of the past or if you have other valid concerns," says Jenny, " Your intuition is important, but sometimes it can be easily misleading."
She recommends taking some time to reflect and ask yourself if you've had similar feelings in your past relationships, or if you're just projecting those experiences onto your partner.
"If you're not sure, just talk to your partner about this concern without bl ame," the expert advised. "Maybe it's just because you have a need or limitation that you don't discuss. Maybe he has a need or limitation that is not being considered. Talking to each other can clear things up, and if not, it can turn into a red flag."
Sexual incompatibility
"If you and your partner are sexually incompatible, that can be a red flag," says Needle. "Not all sex is spectacular at the beginning of a relationship. Intimate relationships improve when we open up to each other and feel comfortable with our partner," she adds.
Pay attention to the age of the problem and think about whether you have discussed intimate desires with your partner.
"If the situation doesn't improve after a while even after talking, or there is sexual incompatibility, meaning your sexual preferences or styles don't match, it can become a much bigger problem in the future," says Needle.
Your partner is unreliable or inconsistent
"We might consider this a pink flag. However, most often it is a sign that your partner is human and is just trying to do their best to cope with stress. We cannot be open, happy, and patient all the time. Sometimes we are closed, inattentive," explains Jenny.
However, in other cases, this behavior can mean that something is wrong or there is a more serious problem. Your partner may simply be sending you unclear signals.
"He may not touch you in public, but he will hug you in private, or vice versa," says Ross. There may be limitations that make your partner uncomfortable.
Jenny recommends talking to your partner with the intention of "checking in" rather than approaching it from your own suspicions. Ask if he or she feels good, if he or she is comfortable sharing his or her problems with you during stressful situations. "It's important to answer these questions before jumping to conclusions," she says.
It's more interesting on the screen
"If your partner is constantly distracted by their phone, computer, or even watching TV, especially during a conversation or even sex, it can lead to a bigger problem if not discussed early on," explains Needle.
Be aware of the different ways you interact with technology and social media. Maybe one of you posts photos of the other or both of you as a couple, while the other never does. Consider whether this contrast is disturbing to either of you, or whether it could be an indication of a larger issue.
Who are you to each other?
"A pink flag could be if you've been seeing the person regularly for a few months, but they don't want to define who you are to each other. Maybe you're getting signals from the other person that they're just having a good time and you're looking for something more serious," says Ross.
Maybe the person you're dating is trying to avoid meeting or spending time with friends and family. Again, it's important to be open to communicating about the bigger picture of your relationship and what it means to both of you.
Emotional safety is at risk
"Feeling emotionally safe in a relationship is essential for it to be healthy, grow, and thrive," says Sarah Weisberg, a licensed psychologist and founder of Potomac Therapy Group. "We feel emotionally safe when we are respected, heard, and supported. Emotional security occurs when our partner makes an effort to understand us," she continues.
The expert noted that this should be mutual in all relationships, whether between friends, family members or romantic partners. Anything that reduces the feeling of emotional security can be a pink flag.
Cheating in the past
You may find yourself in a relationship with someone who has a history of betrayal. Or perhaps you've had this experience in the past.
"If your partner has decided to talk about his or her past that they are not proud of, you should appreciate their honesty. We all have a past that we have to move past," says Jenny.
She recommends trusting your partner without judging them for their past mistakes. "But at the same time, be cautious of any potential patterns that show up in your relationship," Jenny adds. "Time will naturally reveal whether this past experience was actually a mistake or a person's character.
You can also pay attention to how your spouse communicates with their ex-partner. Needle notes that this should not be a negative thing a priori: it all depends on the nature of their relationship."There should be boundaries in any relationship, but especially with an ex-lover," she explains.
Your relationship has taken a turn for the worse
Relationships inevitably evolve over time, but some of these changes can be red flags in themselves.
"You may have stopped taking the initiative," says Liz Higgins, a relational therapist and founder of Millennial Life Counseling. "You have no intention of dating or maintaining a relationship. Or your intimate life has changed significantly. It's not always something negative, but I consider [it] a 'pink flag' because it can mean either a dead end or a transition to a new level," she adds.
Earlier, OBOZREVATEL talked about tips for women to follow at the beginning of a relationship.
Only verified information is available on the Obozrevatel Telegram channel and Viber. Don't fall for fakes!