Trending:
Posing royal: 7 signature Windsor family poses and gestures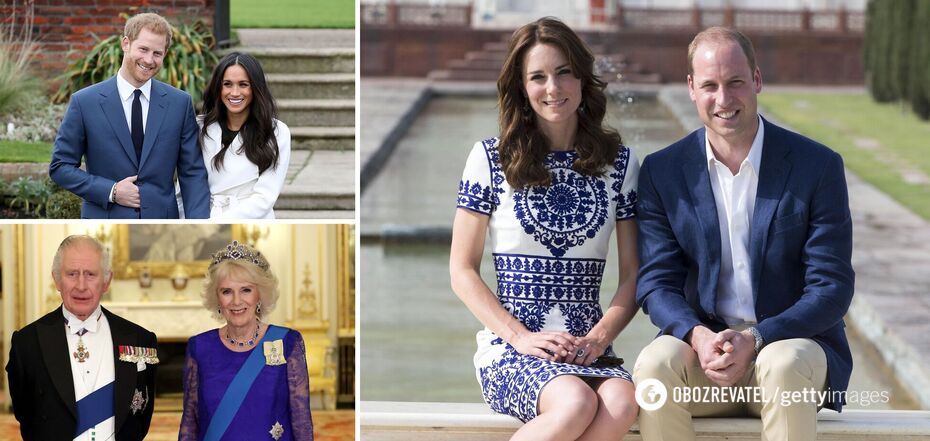 Signature poses and gestures of the royals.
The British royal family has to observe a special protocol - rules of behavior drawn from ancient traditions. This code defines almost all aspects of life of titled persons. For example, women must sit like this: put their knees together and lean to one side. While throwing one leg over the other is mauvais; one of the greatest breaches of etiquette.
When meeting the queen, men should nod slightly and women curtsy slightly. And even drinking tea should be done "correctly". Monarchs hold the cup by clasping the handle with their thumb and forefinger, and place the middle one under the handle. There are tons of rules and restrictions like that. This explains why kings, princesses and dukes behave quite reserved compared to other people. And what gestures and poses are brought to automaticity in them? Read in the material OBOZREVATEL.
1. Princess Diana
Foot on foot. Yes, yes, this is exactly the pose, which prohibits the protocol. From this habit Princess Diana could not get rid of. She would often sit down with her legs crossed, pressed against each other and turned them aside. Interestingly, many years later, Meghan Markle, Duchess of Sussex, wife of Prince Harry (Princess Diana's youngest son), began copying this pose. And unlike Lady Di, she was criticized for not following the rules of etiquette.
2. Kate Middleton
Kate Middleton, wife of William, Prince of Wales, when she sits down, almost always keeps her legs firmly pressed together with a slight tilt. She had this habit even before she became part of the British royal family. Journalists in the media called this pose Duchess Slant.
3. Prince William
The eldest son of King Charles II of the United Kingdom, Prince William, always sits with his knees wide apart at public events. This is a great contrast to the way his graceful wife Kate Middleton sits. By the way, William developed this habit in childhood.
4. Prince George
Prince George, son of Prince William of Wales and Princess Catherine of Wales, often stands cross-legged. There are times when he additionally puts his hand in his pants pocket. It seems that the 10-year-old heir to the throne is not yet very comfortable in front of the cameras.
5. Prince Harry
The youngest son of Charles III, Prince Harry, since childhood has a habit of hiding his palm behind the lapel of his jacket. This is what he does not only unconsciously, but also while posing for photo shoots. This gesture is called the Paperclip Hand. It was used by orators in ancient Greece, as free hands were considered rude and insulting to the audience.
6. Elizabeth II
7. King Charles III
In almost all photos King Charles III poses with his arms crossed behind his back. And this habit appeared in his childhood. In all likelihood, he unconsciously adopted it from his mother. By the way, Elizabeth II often walked like that.
Earlier OBOZREVATEL wrote about how the everyday life of members of the royal family in the UK really goes.
Only verified information from us in Telegram-channel Obozrevatel and Viber. Do not fall for fakes!