Trending:
Popular shoes of 2023 have been called dangerous and harmful: they are worn by Meghan Markle, Hailey Bieber and other celebrities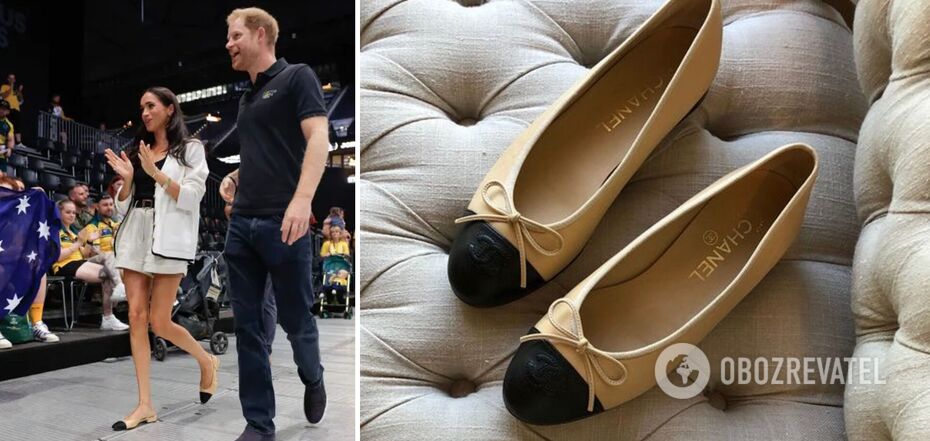 Experts told us how to avoid harm and wear ballet flats for pleasure
In recent months, a new trend has emerged that was hard to predict. Ballet flats are back in fashion! Some celebrities have appreciated this trend by adding ballet flats to their wardrobe. In particular, Kylie Jenner, Hailey Bieber, Meghan Markle and other fashion influencers could be seen wearing these simple yet sophisticated shoes. Many variations of ballet flats were seen on this year's Fashion Week runways, where they were presented to connoisseurs in combination with golf shoes, sequined designs and even in sporty styles.
Last week, Meghan Markle wore a pair of nude Chanel ballet flats with a black toe during her visit to the Invictus Games in Dusseldorf, Germany. And after this year's New York Fashion Week, Footwear News even announced that this wardrobe item is "definitely back in fashion."
But there's a sad truth about this trend: ballet flats can actually be harmful to your health, according to a number of experts, the New York Post reports.
California podiatrist Robert Horramian said that ballet flats are one of the most harmful types of shoes for your feet - in fact, he called them "the biggest offenders" in the Who What Wear article for 2022. And all because the shoes simply do not provide enough "support". The doctor told the publication that prolonged wearing and walking in ballet flats "causes Morton's neuroma and heel spurs" and can "destroy" the fatty tissue under the foot. This can cause aesthetic problems and discomfort, such as corns and calluses, Khorramian noted.
The Sanders Podiatry Clinic in Australia also supported the doctor's opinion, writing that flat shoes can not only cause pain, but even cause or worsen foot conditions such as Achilles tendonitis, heel spurs, neuromas, and flat feet.
According to the Cleveland Clinic, neuromas are inflammation of the nerve in your foot between the bones, while heel spurs can occur with excessive stress. Similarly, Achilles tendonitis is a sprain of the tendon where the heel bone is connected to the calf bone.
The Australian Orthopaedic Clinic also found that flat-soled shoes can "strain your foot, Achilles tendon and calf muscles" and "lack cushioning" - meaning that the shoe doesn't absorb much impact of your foot on the ground, which can make you more prone to injury.
But, in addition to foot injuries, wearing ballet flats can sometimes cause hip, knee, and back problems due to the lack of support, according to WebMD. Dr. Keegan Hadley, an occupational therapist in North Dakota, explained this phenomenon on his website, writing that wearing flat shoes can "alter the position of the leg and foot," which puts "additional stress on the knee joint." Hadley explained that flat shoes can increase the risk of arthritis in the knee joints due to the lack of support. The joints can become, in his words, "overloaded," leading to severe cartilage damage.
But fear not - there are still ways to wear your shoes safely.
If you're still trying to keep up with the trend, Horramian recommends buying shoes with soft soles that fit a little loosely, rather than snugly. The orthopedist also advised to carry a separate pair of more "supportive" shoes with you to change into on days when you spend a lot of time in ballet flats. "The same goes for heels," he added.
Earlier, OBOZREVATEL wrote about the boots that will never go out of style and what to wear with them.
Only verified information is available on the Obozrevatel Telegram channel and Viber. Don't fall for fakes!