Trending:
On the brink: 5 stars who suffered from anorexia but managed to overcome the disease. Photo.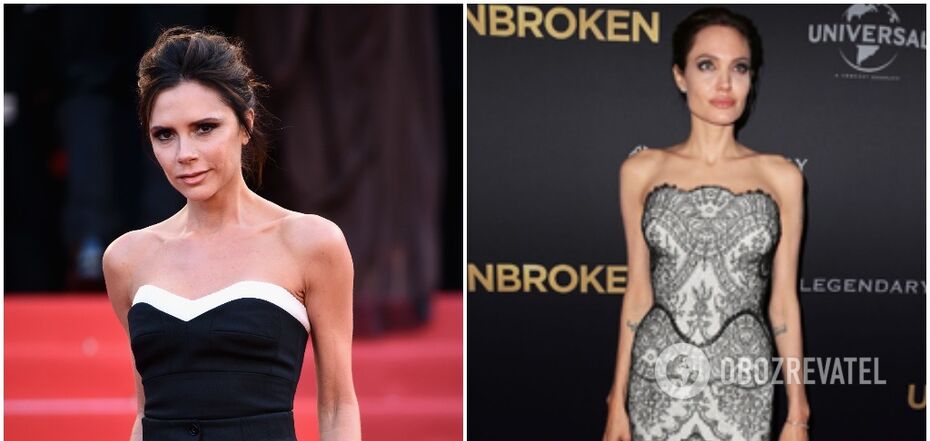 Stars who suffered from anorexia
Anorexia is a dangerous and frightening eating disorder that kills 5% of girls and 1% of boys out of the total number of patients every year. Abnormal weight loss in pursuit of the "ideal" parameters imposed by society and invented "standards" is accompanied by a severe psychological background. That is why anorexia is so dangerous. It continues to affect people all over the world, regardless of their status and age, including world-famous people.
Fortunately, anorexia is increasingly being talked about, so its signs can be detected at an early stage and treatment can be started before the situation becomes extremely critical. An example is the stars who have managed to overcome the disease. OBOZREVATEL decided to tell you about them.
Angelina Jolie
One of the most beautiful women on the planet once seriously scared her fans with her excessive thinness. The centimetres began to decrease significantly in 2013, and in 2016, the star's weight dropped to 38 kg with a height of 169 centimetres. Jolie's then-husband Brad Pitt was the first to sound the alarm. He understood how such an abnormal weight loss could have an extremely negative impact on the health of his beloved, and therefore asked her to start treatment immediately. Everything would have been fine, but the actress's busy schedule, which included active charity work and constant travel, did not allow her to do so.
It took Jolie five years to return to a healthy weight. Later she said that her anorexia was not due to a desire to lose weight, but to a difficult period in her life: several breast and ovarian operations, the death of her mother and a divorce from Pitt.
Victoria Beckham
The famous singer and designer was once called an "icon of anorexia". Beckham is really very strict with herself in terms of food. She follows strict diets to maintain a slim body. According to the celebrity herself, her diet can easily consist of only apples and greens. All this led to polycystic ovaries. The biggest danger it poses is infertility. In 2011, on the instructions of doctors, Beckham began to gain and maintain a healthy weight. At the time, she was pregnant with her fourth child, so it was a must.
Now the star is just as strict about her appearance, not allowing herself to see even one extra kilo on the scales. However, she does not forget about her health, so she approaches her diet wisely.
Lady Gaga
Lady Gaga faced abnormal weight loss as a teenager when she could not accept her "imperfect" body, as she thought. Since the age of 15, she has struggled with anorexia and bulimia. Later, she was diagnosed with fibromyalgia, a disease that manifests itself in severe chronic musculoskeletal pain in the body. It was impossible to ignore this, so young Stephanie Germanotta (the singer's real name) began treatment and also began to learn to accept herself and her appearance. Having overcome this difficult path, Lady Gaga became an advocate of body positivity. She encourages her fans to love themselves as they are, thinking first and foremost about their health.
Mary-Kate Olsen
One of the Olsen twin sisters, whom you may remember from the films Two: Me and My Shadow and New York Moments, lost weight to a skeletal state in 2004, which seriously worried her fans. Her family persuaded Mary-Kate to see a doctor for a long time, and when she finally agreed, she received a disappointing diagnosis of anorexia. As the actress later admitted, at the age of 18, she was very insecure and considered herself many times "uglier" than her sister. The rejection of her appearance led to this state, which was overcome by long-term treatment and work with a psychologist.
Dennis Quaid
If you think there's no room for men on this list, here's Dennis Quaid's story. The actor struggled with anorexia after losing more than 18 kilograms to play Doc Holliday in the film Wyatt Earp. According to the star, he couldn't get rid of the thoughts that he was still too heavy.
Earlier, OBPZREVATEL told about those stars who, on the contrary, struggle with excess weight. These famous people started gaining pounds for various reasons: some of them due to illness, and some due to alcohol or drug addiction. Read more about them in our article.
Only verified information is available in our Obozrevatel Telegram channel and Viber. Do not fall for fakes!