Trending:
Olya Polyakova led the Ukrainian Pride column in London as "Unbreakable"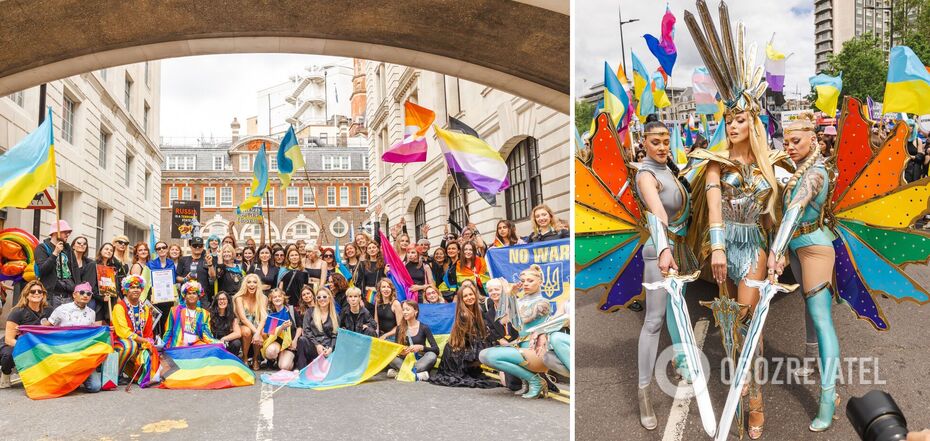 Olya Polyakova took part in the 51st annual march to protect the rights of the LGBTQ+ community
The Ukrainian singer took part in the 51st annual march to protect the rights of the LGBTQ+ community. The event was held on 1 July with the support of UKRAINEPRIDE and SUPPORT UKRAINE LONDON, calling on the international community to protect Ukraine globally.
The main message of this year's Ukrainian delegation reflects one of the key requests. "Give us wings to protect our rainbow". The slogan of the march is inspired by the historic visit of Ukrainian President Volodymyr Zelenskyy to London in February 2023, during which he repeatedly called for aircraft. His call to "Give us wings to protect freedom" in front of the British Parliament has become legendary.
Olya Polyakova appeared on the move in the image of a warrior woman warrior, super heroine "Unbreakable", fighting for justice and human freedom in all its manifestations. The image was created by the designers of the MU PRODUCTION brand, who embedded powerful symbolism in every element of the singer's outfit.
MU PRODUCTION: "This is a heroine who has power, the power of words and an unquenchable fire in her chest. We really wanted her to be a superhero who would triumph with love and thirst for life! And she ignited this thirst in the hearts of the audience. Her image is both a celebration and a challenge A Ukrainian trident shines on her chest - nowadays this symbol is like the heart of every Ukrainian. The large golden armour on her shoulders, legs and bracelets are the warrior's armour that protects her. A large golden cloak represents the golden wheat fields of our country. Olya wears a big golden mohawk helmet on her head," the designers comment on the singer's invincible image.
According to the artist, long ago, warlike Cherokee Indians wore mohawks as a symbol of courage, of fighting for their land and the lives of their loved ones. Poliakova carries the same symbols now, in the 21st century, when our country is fighting for its land and life. An inlaid sword sparkles in her hand. She is ready to break these stereotypes and fight for everyone's freedom.
The participants of the Ukrainian convoy, who were fifth in line, wore black to honour the memory of those who died defending Ukraine. In total, more than 600 groups took part in the event.