Trending:
Olia Poliakova, Taras Topolia and other Ukrainian stars whose children study abroad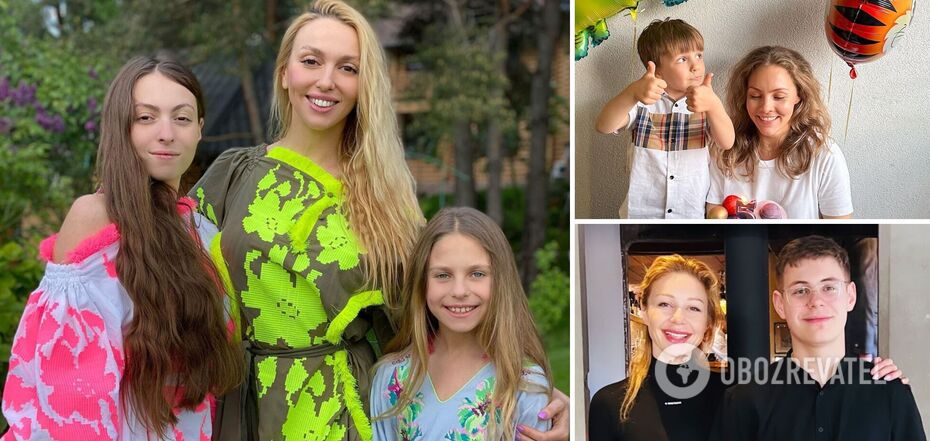 Celebrity parents whose children study abroad.
Some Ukrainian celebrities have firmly decided that their children will be educated in Ukraine. Firstly, educational institutions here are no worse than foreign ones in developing soft and hard skills. Secondly, this is how schoolchildren and students keep in touch with their friends and relatives. For example, Ukrainian President Volodymyr Zelensky and Ukrainian First Lady Olena Zelenska are among those who, despite the full-scale invasion of Russian troops, have not sent their children to study abroad.
"I am glad that the children are studying in Ukrainian educational institutions. It is very important for the President of a warring state to have your children here because the state is here," the head of the country said during a press conference "February. Year of invincibility". Some stars have chosen a different path as their daughters and sons go to schools and higher education institutions in France, the United States, Germany and other countries. Read more about them in the OBOZREVATEL material.
Serhiy Babkin and Snizhana Babkina
Shortly after the outbreak of full-scale war, the family of musician and actor Serhiy Babkin and actress and dancer Snizhana Babkina moved to Germany. They are registered as refugees and live in social housing. Their 15-year-old son Arthur and 11-year-old daughter Vasylisa are being educated at a prestigious Montessori school. So far, the children are having a hard time learning because they did not study German in Ukraine.
Lidiia Taran
The daughter of Ukrainian TV presenters Lidiia Taran and Andriy Domansky Vasilisa has gone to live in France with her mother and grandmother since the beginning of the full-scale war in Ukraine. She enrolled in college and began to study French. So far, the girl's adaptation is not easy, but, according to her mother, this is not the biggest shock in her life. By the way, the TV presenter also does not waste time: she is getting an education at a local university.
Olena Shoptenko
Ukrainian dancer and choreographer Olena Shoptenko lives in Austria together with her son Oleksiy. In Vienna, the 5-year-old boy goes to kindergarten and his mother is engaged in professional activities (organizes dance therapy projects). Once the celebrity admitted that her child is not having an easy time in unfamiliar conditions: it is difficult to learn the language and control his own emotions (Oleksiy does not let anyone insult him and responds physically).
Olia Poliakova
Ukrainian actress, singer, blogger and TV presenter Olia Poliakova sent her children to study in London in 2022. The eldest daughter, 18-year-old Maria, entered one of the most prestigious music universities in the UK, BMus. The youngest, 11-year-old Alice, goes to an elite boarding school, where there is training along with accommodation.
Santa Dimopulos
13-year-old Daniel Dzhedzhula is the son of Ukrainian singer Santa Dimopulos and showman Andriy Dzhedzhula. He studies at the prestigious French school Nice International School. The artist's 4-year-old daughter Sofia goes to a private school Swiss International Science School in Dubai.
Alyosha and Taras Topolia
The children of Ukrainian singer Alyosha and leader of the band Antytila Taras Topolia have moved with their mother to the United States since the beginning of the full-scale war in Ukraine. The eldest son, 9-year-old Roman, went to the 2nd grade because he does not know English, and 6-year-old Mark was taken to a kindergarten, where he is learning language and math.
By the way, the boys' dad has been a paramedic in the 130th Kyiv Territorial Defense Battalion since February 2022 and provided medical assistance to fighters in the Kharkiv region. After six months of service, he, along with other members of the Antytila, was ordered to be seconded by the Commander-in-Chief of the AFU Valeriy Zaluzhny. Now Topolia and his band are engaged in music, helping to bring victory closer by charity.
Tina Karol
14-year-old Veniamin Ohir is the son of Ukrainian singer Tina Karol and Ukrainian producer Yevhen Ohir (who passed away at the age of 32 after a hard struggle with stomach cancer). He is studying at the elite Repton Preparatory School in the UK. Alongside his education, he enjoys playing the piano and drums, as well as fencing.
Masha Efrosynina
The daughter of Ukrainian TV presenter Masha Efrosynina 19-year-old Nana lives abroad. The girl was educated in Canada for some time, but it was far from her family, so she entered a university in the Netherlands. Now she can see her mom and her 9-year-old brother Oleksandr more. By the way, the boy studied at an elite school in Kyiv before the outbreak of full-scale war. He was then taken to Poland because it was safer there. In Warsaw, Oleksandr went to the local Ukrainian school for a year, and later Masha Efrosynina reported on Instagram that her son returned to Ukraine. It seems that now they will live together.
Dmytro Shurov
The son of the soloist of the project Pianoboy Dmitry Shurov 19-year-old Lev lives and studies at a London music college, where he progresses as a musician and author. In response to criticism online as to why the young man is not at the front, his father replied that young people need to devote themselves to their studies because they will be the ones to rebuild Ukraine after the war.
Earlier OBOZREVATEL wrote which Ukrainian celebrities have three or more children. It is difficult to imagine how they have time to work and bring up their children.
Only verified information from us on Telegram Obozrevatel and Viber. Do not fall for fakes!