Trending:
Olena Zelenska, Brigitte Macron, Queen Letizia: top 5 most stylish first ladies in history. Photo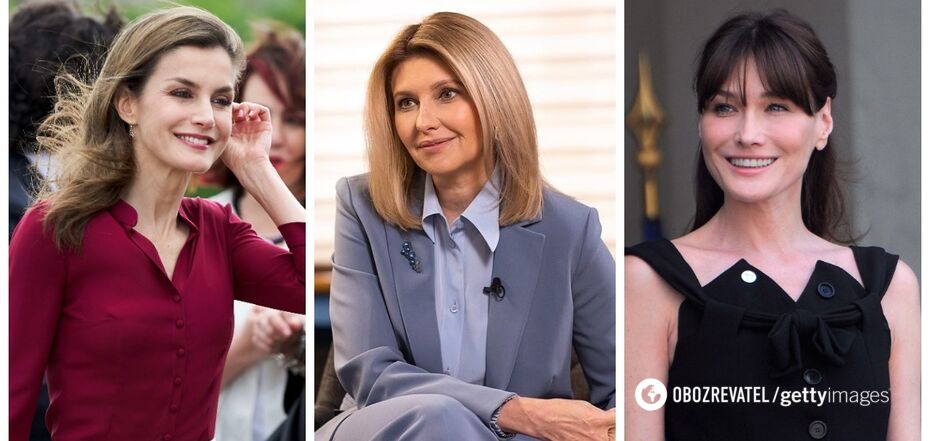 The style secrets of the wives of presidents and kings.
Everything is perfect in the images of the first ladies: the cut, perfectly outlining the figure, the shade, harmonizing with the color type, and laconic design. Who is behind it? Their stylists. They take into account the mood, the peculiarities of the character of the wives of presidents and, of course, the protocol dress code.
Find out what key features the outfits of Elena Zelenskaya, Queen Letizia and other first ladies have. Thanks to what they became fashion icons? About all this - in the material OBOZREVATEL.
1. Olena Zelenska (first lady of Ukraine since May 20, 2019)
The first lady of Ukraine Olena Zelenska has a personal stylist Natalia Kamenskaya. She is the founder of the brand Gunia Project, former co-founder and designer of Lake studio. In an exclusive interview for ELLE magazine she told about how she selects images for the wife of Ukrainian President Volodymyr Zelensky. Natalia balances on the edge of classic and modernity, and adds interesting design elements (brooch "Wormwood, Yevshan-Zelye", shirt with embroidered ears, brooch - map of Ukraine or, for example, in the form of a legendary cockerel from Borodyanka).
Zelenska, according to the stylist, communicates with the world through her images, so her clothes are mostly created by Ukrainian designers. "I wanted the closet not to make her anything else, some conventional character, another first lady, only emphasized, continued her," says Kamenskaya.
As Russia's full-scale war against Ukraine continues, Natalia chooses a laconic style for her VIP-client: with a restrained cut and color palette. However, still every image of Olena Volodymyrivna emphasizes her strength, reason and intelligence.
Now there are more suits than dresses in the first lady's closet. And Natalia gave a logical explanation for this: "In my opinion, nowadays a suit better conveys the state of a Ukrainian woman. It is like a symbol that we are collected, strong and always ready. And a men's cut pantsuit adds all the more confidence. Why does the First Lady wear suits more and more often? This is a message to the world: Ukraine is fighting.
2. Letizia (Queen Consort of Spain since 2014)
Queen Consort Letizia is one of the most stylish First Ladies in the world. She wears modern suits and midi and maxi length dresses rather than outdated tweed outfits and tone-on-tone gloves at official events. The Queen is also often seen in blouses and culottes or linen shirts and A-silhouette skirts. She complements her looks with hats and shoes with sturdy heels.
Letizia's ceremonial outfits are made by little-known Spanish designers, among them Felipe Varela, while for every day Her Majesty buys things in mass-market stores (Uterqüe, Mango, Zara, Massimo Dutti or Hugo Boss). It is also interesting that she wears her favorite outfits several times, which is not often practiced by first ladies and royalty.
3. Brigitte Macron (First Lady of France since May 15, 2017)
The author of French First Lady Brigitte Mac ron's unique style is Matthew Barthelat Colan. This stylist easily creates unconventional ensembles. For example, Louis Vuitton dresses with Alexandre Vauthier and Balmain jackets. And if the first brand is traditional in the closets of presidents' wives, the last two are favorites of it-girls Hailey Bieber, Gigi Hadid or, say, Zendaya.
So Brigitte demonstrates that she is not afraid to go against protocol in favor of current innovations in the world of fashion. One of the brightest examples is a dress with black lace embellishment in the chest area, which Madame Macron wore for the UN General Assembly meeting. The base of the closet of the First Lady of France - silhouette skirts with slits, midi-dresses, leather jackets, Slim jeans and sneakers or loafer shoes. Of course, there are also strict suits, dresses of laconic design and jackets made of tweed.
4. Carla Bruni (First Lady of France from 2008 to 2012)
Carla Bruni made her first official visit to the palace of Queen Elizabeth II of Great Britain. Then the wife of the 23rd President of France Nicolas Sarkozy showed a gray Dior coat, a hat in tone and black ballet flats. After the tabloids praised the image of the new First Lady, she decided to continue her cooperation with Dior.
The English fashion designer John Galliano, who is the art director of Christian Dior, created for Carla elegant outfits that perfectly outline her figure. During the whole period of Sarkozy's presidency she wore classic suits, dresses and coats of neutral colors. She complemented them with a minimum of jewelry. Simple and tasteful.
5. Michelle Obama (First Lady of the United States from 2009 to 2017)
Michelle Obama did not constrain herself with outdated rules and traditions on clothing style. She wore what suited her. Both democratic J.Crew and extravagant Gucci and Versace Couture. For casual looks Michelle Obama chose affordable brands, including Tracy Reese, Maria Pinto, Alice+Olivia and Zero. The First Lady rarely wore pantsuits. She preferred dresses and blouses with skirts. And for good reason - in them she had a feminine and status look.
Earlier OBOZREVATEL wrote about the most colorful and elegant images of the first ladies of Ukraine.
Only verified information from us in Telegram-channel Obozrevatel and Viber. Do not fall for fakes!