Trending:
Like two peas in a pod: 10 celebrities who have "doubles" from the past. Photo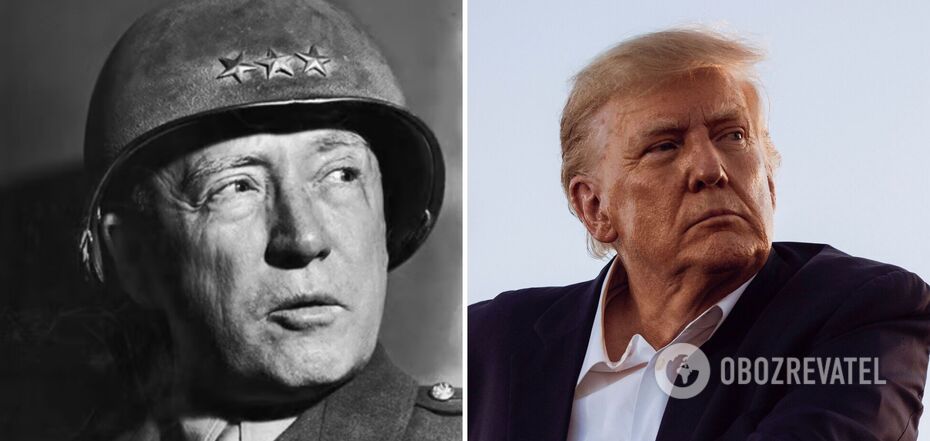 Джордж Сміт Паттон і його сучасний ''двійник'' Дональд Трамп.
It's one thing to look like a family member, but it's another to look like people who lived decades or even centuries before you were born. Yes, there are celebrities who have "doubles" from the distant past. Even though they have no common ancestors. The wonders of genetics do exist! And maybe reincarnation does too.
Find out in OBOZREVATEL's article which people were "copies" of modern stars. You know the names of some of them very well: they were just as (or even more!) famous at one time.
1. Tommy Lee Jones
The American actor Tommy Lee Jones strikingly resembles the 17th President of the United States Andrew Johnson, who passed away in 1875 (i.e. 71 years before the movie star was born). The two men in the photo have similar hairstyles, face ovals, eye slits, nose and lip shapes.
2. Hugh Grant
The English actor Hugh Grant also has a "double" from the past. And you just can't help but know him. This is the famous Irish English-language poet, playwright and novelist Oscar Wilde. If you change Hugh's hairstyle and put a little makeup on his lips, make them a little bigger, he could definitely play the legendary writer in a biopic.
3. Ellen DeGeneres
American actress, comedian and TV presenter Ellen DeGeneres has a "double" of the opposite sex. We are talking about the American writer, thinker and naturalist Henry David Thoreau. The eyes, nose and face oval are incredibly similar. Well, now it's easier to imagine what the celebrity would look like if he were born a man.
4. John Travolta
The American actor and singer John Travolta is a "copy" of an unknown man whose photo, taken in 1860, was put up for auction on eBay. At the time, many Internet users noticed the amazing resemblance between the stranger and the actor, claiming that this was reincarnation, which has not yet been scientifically proven.
5. Luke Perry
The American actor Luke Perry, known for his role as Dylan McKay in the TV series Beverly Hills, 90210, looks like the American folk musician Woody Guthrie. It's hard to believe that the photos below depict different people who lived in different times. Woody passed away in 1967, and Luke passed away in 2019.
6. Queen Latifah
The American singer, rapper, actress and model Queen Latifah looks just like the African-American writer, folklorist and anthropologist Zora Neale Hurston. The only thing that makes them unmistakable is their style of dress.
7. Donald Trump
The 45th President of the United States, Donald Trump, looks like the American general, commander of the Third US Army during World War II, George Smith Patton. Take a look at their photos. Compare their looks and facial features in general. It is difficult to find significant differences.
8. Nicolas Cage
American actor Nicolas Cage has a "double" from the past. This is a soldier from the Civil War. Unfortunately, there is only one photo of the soldier online, taken in 1870. The two have similar facial features, a mustache, and even a similar hairstyle. Only the shape of the nose and eyebrows are slightly different.
9. George Clooney
It seems that the American actor, director, producer and screenwriter George Clooney has decided to conquer the world of cinema, as his "double", the American actor Cary Grant, once did. They both have a charismatic look, almost identical face ovals and hairstyles, and a similar love of classic clothing.
10. Matthew McConaughey
American actor, screenwriter, director and producer Matthew McConaughey seems to have been a military man in his past life (if it exists). How else to explain the striking resemblance between him and the man on the left? Even the beard cut is almost identical.
Earlier, OBOZREVATEL wrote about Volodymyr Zelenskyy, Serhiy Babkin and other Ukrainian celebrities who have star "doubles."
Only verified information is available on the Obozrevatel Telegram channel and Viber. Don't fall for fakes!