Trending:
Lawrence refused to lose weight for a role and McDowell doesn't dye her hair gray: 5 stars who fight back against beauty stereotypes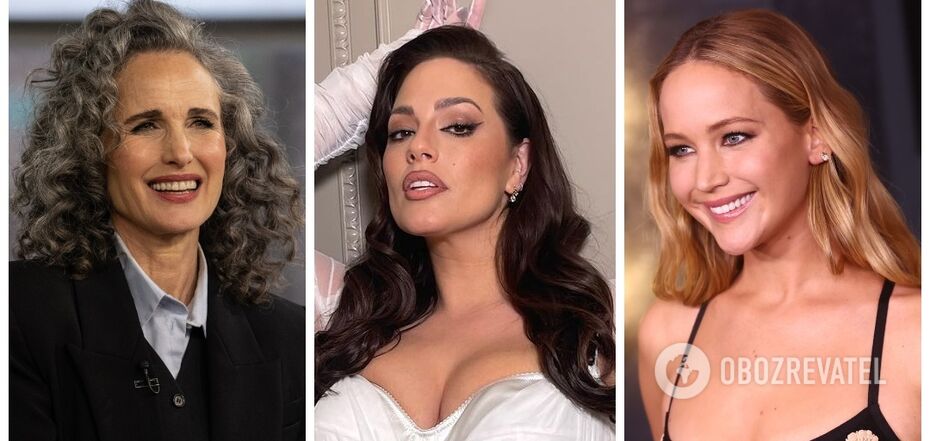 Celebrities who advocate for natural beauty.
The famous singer and actress Selena Gomez is an ambassador of bodypositivity, and constantly demonstrates it. Her life was saved by a kidney transplant 8 years ago, after which she gave up the race for "perfection" and chose to take care of herself. In 2022, the star shot a video in TikTok, where she lies on the beach in a swimsuit, without retracting her bulging belly. So she hinted that it's time for modern women to start taking beach photos more easily and not get hung up on physical perfection.
And in June 2023, Selena posted a photo on Instagram with a pimple on her face. Without makeup or filters. She showed herself as she is outside of stage life: a regular girl who also has skin problems. Not only Gomez, but other celebrities are fighting stereotypes about how a woman should look. They are convinced that you need to embrace natural beauty and stay true to yourself. In detail - in the material OBOZREVATEL.
1. Jennifer Lawrence
American actress Jennifer Lawrence played a major role in the movie "The Hunger Games" (2012). This was a huge breakthrough in her career. But few people know that the director of the tape persuaded the celebrity to lose weight, so that she was more suitable for her character. She refused, arguing that many female viewers will associate themselves with the heroine, so to add complexes to them is clearly not worth it.
2. Camila Cabello
Cuban-American singer Camila Cabello has long been self-conscious about her body, which differs from what is considered "perfect". She did not exhibit her own photos in a swimsuit or outfits exposing her legs or stomach. She was afraid of being criticized. Soon the star managed to overcome this. In one of the interviews she said: "What is your health if you are so fixated on what your non-model body looks like? Your mental health suffers and you can't enjoy life."
3. Andie MacDowell
American model and actress Andie MacDowell started going gray on self-isolation during the pandemic. She decided not to hide the "silver in her hair" under expensive colors. "I've never felt more confident. I feel honest that I'm not pretending. I feel like I accept myself and value my place. I feel very comfortable. I just know it's right for me," the movie star admitted in an interview.
4. Ashley Graham
American model in the category "plus-size" Ashley Graham on her page in Instagram often challenges the public. She openly shows how her body changes during pregnancy and what kind of stretch marks appear on it. She is also not afraid to post photos of herself completely naked, covering her breasts and intimate areas with her hands. With her bold photos Ashley demonstrates that you should love yourself with any parameters and skin imperfections.
5. Christy Turlington
American top model, one of the supermodels of the 90s, Christy Turlington had perfect skin in her youth: smooth and clear. As she aged, she began to develop wrinkles that she chose not to mask with Botox injections or facelifts. Why? "Everyone is obsessed with rejuvenation. And I don't want to look younger than my age. My face is the map of my life. And the more it's seen, the better," Christy explained. She is now 54 years old. And she looks amazing without beauty injections.
Earlier OBOZREVATEL wrote about who of the seemingly confident stars are not completely satisfied with their own appearance.
Only verified information from us in Telegram-channel Obozrevatel and Viber. Do not fall for fakes!