Trending:
It's not about sports at all? What is the secret of Kim Kardashian's perfect abs and what the star has been hiding from everyone for so long. Photo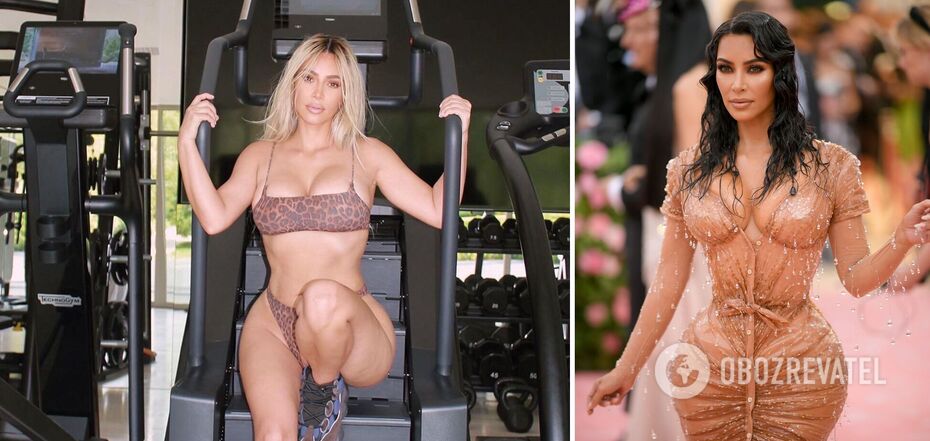 Kim Kardashian revealed the secret of her perfect abs
The world famous American reality star, model and businesswoman Kim Kardashian does not hide that she is really obsessed about her appearance. She is ready for grueling workouts and expensive procedures just to make her figure look flawless. Well, the result is visible - hardly anyone would argue with the fact that the socialite's shape is perfect. And if previously everyone was just talking about Kim's famous heel, now more and more attention is focused on her steely abs.
There are even rumors online that Kardashian had surgery to remove her ribs. They began to spread in 2019, when the star appeared with a very thin waist on the red carpet of the Met Gala. However, Kim herself denies these suspicions in every way and assures that her slim silhouette is the result of hard work on herself. OBOZREVATEL will tell you about some secrets of the celebrity's perfect abs.
By the way, as for the image of the businesswoman at the Met Gala-2019, she later admitted that no other outfit has ever brought her so much pain as the corset of this "naked" dress.
And while network users argue whether the star had her ribs removed or not, Kim continues to train hard. Every day she performs a series of special exercises for cardio: 100 jumps with a load, squats on the simulator, 25-minute walk on a treadmill with a high incline. She repeats this complex four times throughout the day.
"I do care. I really genuinely care about looking good. Probably not even 10% of the people on this planet care about themselves that much," Kim doesn't hide it.
She notes that the set of listed exercises, without which she does not start her day, helps quickly burn calories and improve the metabolism. In addition, the celebrity exercises with dumbbells, does not forget to pump her biceps and do exercises for abs.
Kardashian does not skip a workout, even if she does not feel well or is not in the right mood - she picks herself up and goes to the gym.
However, her work on her body is not limited to sports. Previously, Kim did not reveal the secrets of self-care and directly to her sculpted and graceful tummy. However, now she began to share her personal effective tips with the audience.
"I do the Morpheous laser to tighten my tummy... It's painful, but it's worth it!" - revealed the socialite.
On social media, she showed off her belly during the procedure, noting Beverly Hills board-certified plastic surgeon Dr. Ashkan Ghavami in the publication. According to his Web site, Morpheus is a microneedling procedure in which the skin is pierced with tiny needles that "deliver pulses of radiofrequency energy to the deeper layers of the skin." Supposedly, this creates a "heat reaction" that increases collagen and elastin production, causes fat loss and has a skin tightening effect.
The cost of such a procedure ranges from $350 to $3,500 depending on the clinic, but the average price is $2,000.
Kim does not forget the quality of her recovery. To this end, she regularly goes for massages.
As OBOZREVATEL reported, earlier Kim Kardashian appeared on the cover of the popular magazine Interview with bare buttocks. The socialite bared her famous heel against the backdrop of the U.S. flag.
Only verified information on our Telegram-channel Obozrevatel and Viber. Do not be fooled by fakes!