Trending:
It's a message to the world. Olena Zelenska's stylist explained why after February 24 the first lady often wears suits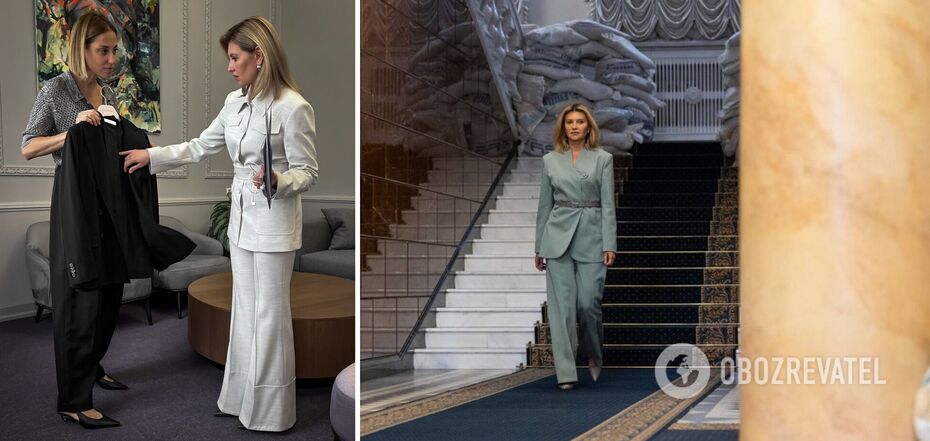 First lady's stylist Nataliya Kamenska told about Olena Zelenska's style after February 24
Many Ukrainians have noticed that Ukraine's First Lady Olena Zelenska's closet has noticeably fewer dresses and skirts since the outbreak of full-scale war. Instead, the wife of the president favors classic suits, often men's cut. She wears pastel and dark colors, which, as it turns out, are chosen for a reason.
The first lady's stylist, founder of the Gunia Project brand Natalia Kamenska, confirmed that Zelenska's style changed after February 24, and the idea of wearing pantsuits instead of dresses has a special meaning. The designer shared her secrets in an interview with Elle.
Zelenska's images today are not just about clothes and style, it is also an additional opportunity to show our country's indestructible position on the international arena.
"Dresses are cool, but I think nowadays a suit better conveys the state of a Ukrainian woman. It's like a symbol that we are collected, strong and always ready. And a men's cut pantsuit gives confidence all the more. Why does the First Lady appear in suits more and more often? This is a message to the world: Ukraine is fighting," Kamenska commented.
The stylist stressed that she and her team after February 24 refused from bright colors and bold experiments. For the first lady of the country covered by the terrorist war, they chose a laconic style: with a restrained cut and color scheme.
"But it is still an image that emphasizes Olena Volodymyrivna's strength, her wit, intelligence, culture and independence," the designer added.
Kamenska also shared that over the past year and a half, the closet of the guarantor's wife has been updated by ten percent. Clothes are made only for important trips and big holidays, such as Independence Day. The rest is combined from what is available. At the same time, the stylist notes that now he is trying to introduce more dresses into Zelenska's closet.
Kamenska also said that immediately after the invasion, she and the team had to put their activities on pause. Then the first lady said that she did not need stylists and makeup artists - "it's not about that now".
"Everyone supported the decision because it made perfect sense. Soon, when the first lady's meetings intensified, there was a need for our help as well. After all, any action with the closet is time that the First Lady can and should use for something more useful. Therefore, we slowly began to join in the preparation of new outings and outings. It was decided that we do not sew anything new, but work with what we have. We mixed things from the pre-war closet. It went on like that for a while. But last July, the First Lady had to go on a visit to the United States and address Congress. Naturally, she couldn't go there in jeans and sneakers," Kamenska recalled.
The stylist pointed out that the First Lady and the President have different roles, which should be reflected in their style. For Volodymyr Oleksandrovych, the commander-in-chief of a country at war, khaki-colored fleeces and T-shirts are an obvious choice. But his wife "communicates with the world in a slightly different way".
"We understood that she would be the first wife of a foreign leader to address Congress. Of course, her image should reinforce her messages: "Yes, we have a war, but there are many people left in Ukraine who continue to work, volunteer, finally, live life". Plus such outings are also a statement to the world about talented Ukrainian designers. It is also a support for the industry: Olena Volodymyrivna went out in public in a suit - the demand for this brand has grown", - shared the designer.
Earlier OBOZREVATEL wrote, what is special embroidery, which was worn by Olena Zelenska on Independence Day. It was designed exclusively for the first lady.
Only verified information from us in Telegram-channel Obozrevatel and Viber. Do not fall for fakes!