Trending:
Inventor wants to create sex toys that read minds: why it's not a good idea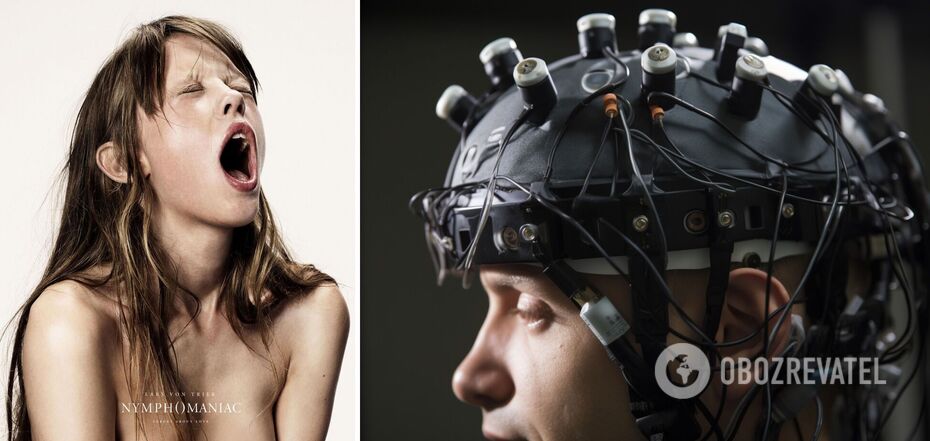 Inventor uses electroencephalography to read thoughts. Source: Nymphomaniac movie poster/Casper Sejersen/Trust Nordisk/OBOZREVATEL
Autoblow sex toy developer Brian Sloan has decided to revolutionize the industry and create the world's first adult entertainment devices to be controlled by the power of thought. However, despite the obvious curiosity of such an idea, it probably doesn't take into account an extremely weighty psychological factor that could lead to a major fiasco.
The details are revealed by the publication Interesting Engineering. The first successful tests of interaction through the power of thought have already been achieved.
"I read all the time about what's going on in technology. They're making sunglasses that have Bluetooth speakers built into them. Elon Musk is developing Neuralink. I don't know what's in store for the human brain. It's not my field. But I do know that if I offered people a sex toy that could be controlled without touching any buttons, that seems like an obvious thing that people would want to use," the inventor explained his idea in an interview with Slate.
Sloan is not new to adult entertainment. Earlier he created a toy for men called Autoblow, which allows you to perform oral sex alone. At the same time, the device proved so popular that, according to the developer, sold more than 400 thousand pieces. Already the inventor tried to develop his device into a smart one when he developed a special application for iPhone, allowing to use voice commands to control the toy.
But now he aims to take it a big step further and make the toy respond to the user's thoughts. To accomplish his goal, Sloan is using electroencephalography or EEG, a technique traditionally used to record an electrogram of the brain's spontaneous electrical activity. It is most often used to diagnose conditions such as epilepsy, sleep disorders and brain tumors, but EEG can be used to control peripheral devices such as a video game controller. The first EEG recordings were made by German neurologist Hans Berger back in 1924, almost a century ago.
Successful tests have already been conducted on two subjects with EEG sensors synchronized with the Autoblow device. To control the toy, the user has to think about moving his hands or feet, and accordingly the device will work faster or slower.
The developer anticipates that the device could be on the market within a decade. Right now, there are neither financial nor technological resources to accelerate its development.
Despite the fact that Sloan's idea of thought-controlled sex toys will obviously be in demand, at least at the beginning of sales, experts are already noting that the inventor has forgotten one important factor: sex is first and foremost a human connection.
Thus, in 2018, a team of doctors from the UK published a report in which they noted that sex robots do not reduce feelings of loneliness, but on the contrary, can exacerbate it.
"It remains unproven that 'needs' for intimacy will be met: this could lead to worsening suffering. Although a person may genuinely desire a sex bot, reciprocity can only be artificially simulated," the doctors warned.
Other experts speculate that Sloan's invention will simply prove to be of no use to anyone as artificial intelligence sex jobs hit the market.
In particular, Mo Gawdat, former executive director of Google's R&D X division, explained that there is a strong possibility that virtual reality and augmented reality headsets, such as Apple's Vision Pro or Quest 3, could soon be used to simulate sexual relationships. But he believes that in this way, the magic of human contact will simply disappear from intimate relationships.
"You know, it's really quite messy. It's all signals in your brain that you're enjoying socializing and sexuality, and - if you really want to take the magic out of it - it can be simulated," he said.
Earlier OBOZREVATEL told about the fact that sex robots of the future will become lesbians, will have "bionic penises" and will be able to kill.
Subscribe to OBOZREVATEL channels in Telegram and Viber to keep up with the latest developments