Trending:
"Immodest and a real gossip": 5 amazing stories about Princess Diana told by celebrities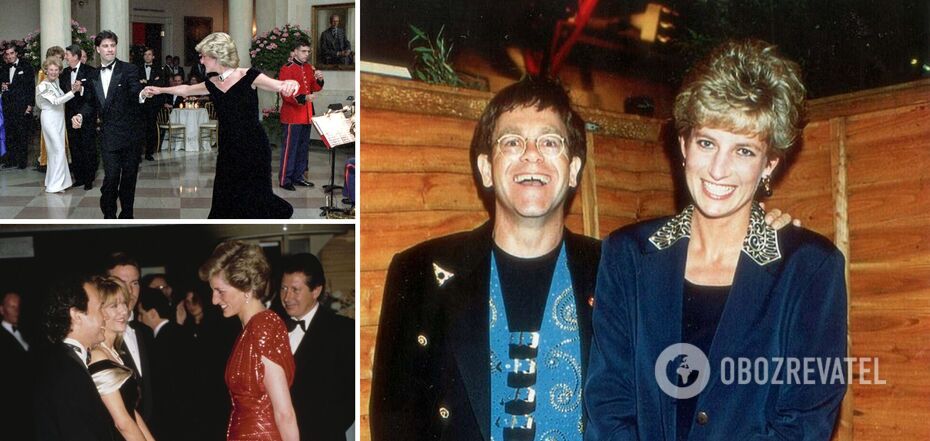 We recreate the image of the Princess of Wales from the stories of the stars.
During her lifetime,Diana, Princess of Wales, was called the Queen of Hearts. She was different from other titled persons. According to the protocol, any overly familiar interaction with the public, including hugs and kisses from your subjects, is prohibited. Lady Dee violated this rule in every possible way: she could hug her fans on emotion or tell them about her personal life. She was not reserved, but was always the life of the party.
The princess had many celebrity friends, and she made a great impression on them. This year, Diana would have turned 62, so let's try to recreate the image of the legendary figure using the stories of her celebrity friends. Read more in the OBOZREVATEL article.
1. John Travolta
On November 9, 1985, at the White House, Princess Diana danced with Hollywood star actor John Travolta. According to him, that evening was one of the most memorable in his life. Even before the event, the then first lady of the United States, Nancy Reagan, said that Lady Dee dreamed of dancing with the actor. He liked the idea, and his heart began to beat wildly.
At midnight, John went up to the princess, tapped her lightly on the shoulder, and said, "Would you mind dancing?" She turned modestly, and lowered her head as only she did, and said, "Yes." "We bowed when it was over, and she left, and I left-and my carriage turned into a pumpkin. I'm convinced that was the best part of her stay in the United States. It was her favorite moment," Travolta summarized.
2. Cindy Crawford
American supermodel, TV presenter and actress Cindy Crawford had the honor of meeting Lady Dee in 1996. How did it happen? The Princess of Wales decided to make a surprise for her son, Prince William's 14th birthday. She called the assistant of a modeling agency and invited supermodels Cindy Crawford (the prince was in love with her), Christy Turlington, and Naomi Campbell to Kensington Palace.
When Cindy heard about it, she was afraid that she would be "too awkward" with the royal family. She wondered what to wear because she didn't want to look out of place. But her worries were in vain. The princess chose a simple look for the meeting: jeans, a jacket and a cashmere sweater, which created an atmosphere of comfort. "She was cool and showed us all what a modern princess should be like," Crawford shared her impressions of the day.
3. Billy Crystal
American comedian, actor, director and producer Billy Crystal met Lady Dee at the premiere of When Harry Met Sally (1989). At that time, he liked the princess's special sense of humor.
In an interview with People, Billy spoke about Diana's jokes when the screening began: "The lights went out and she whispered to me that she was taking off her shoes. I said I was taking off my pants. She said, 'Oh, you're so naughty! She had such a terrible laugh! Later I said to Rob (Rob Reiner, the film's director - Ed.), if this was a date, I would never see her again! Just because she laughs like E-he-he."
4. Elton John
British rock musician Elton John was a close friend of Princess Diana. After the tragic death of the "queen of hearts" in 1997, the artist dedicated the song Candle in the Wind to her. To do this, he took the 1973 composition, where he sang Marilyn Monroe, and slightly changed the lyrics. Here are some of the lyrics: "Farewell, English rose, you will always remain in our hearts... Your candle burned out too soon, but you will always be a legend."
In his memoirs "Me: Elton John", the musician described the princess at Prince Andrew's 21st birthday celebration in 1981: "She was endowed with an incredible ease of communication. People felt absolutely comfortable with her. Over the many years I knew her, she was great company. Incredibly immodest and a real gossip: you could ask her about anything and she would tell you. One day she came into the banquet hall and we pretended to Charleston dance, hooting and hollering. Because that disco was boring."
5. Richard Branson
Richard Branson, an English entrepreneur and founder of the Virgin Group, is the owner of Necker Island (an island in the Pacific Ocean that belongs to the Hawaiian Islands). Lady Dee often chose this place to vacation with her children. "I can still imagine Diana laughing with William and Harry (Princess Diana's sons - Ed.). She saw our little piece of paradise as an escape from the annoying press. Being in her element, she just played with the kids like any mom," Richard described Lady Dee so warmly.
Earlier, OBOZREVATEL wrote about 5 rules of protocol that the royals violated.
Only verified information is available on the Obozrevatel Telegram channel and Viber. Don't fall for fakes!