Trending:
How to restore a beautiful look to a wooden floor: no scratches left behind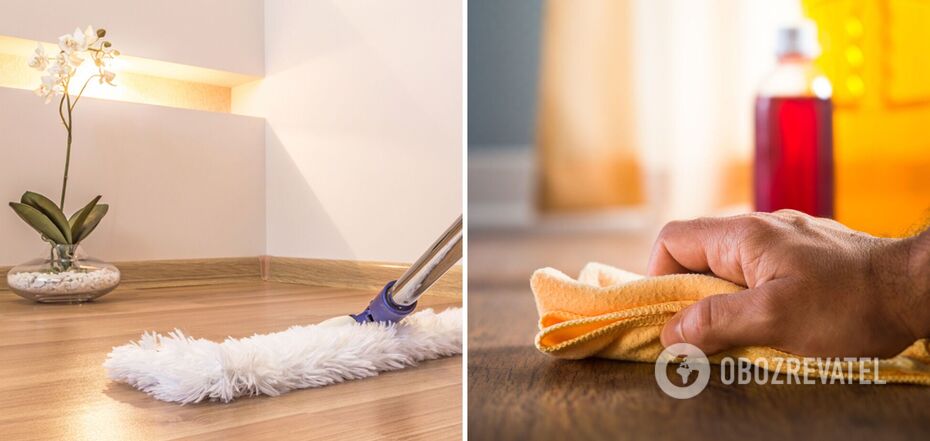 Regular oil will help to remove scratches from the floor.
No matter how well you care for your flooring, sooner or later it will get scratched. And then dirt will begin to collect in these micro-depressions, which will make the damage more visible over time. This is especially true for wooden surfaces. But it is not so difficult to eliminate this drawback. It is only important to know a few life hacks on how to restore a wooden floor yourself.
Sante Plus magazine gives some tips on this. For a quick home restoration, you only need one product that is in every kitchen - sunflower oil.
How to use sunflower oil to restore your floor
Vacuum and wash the floor so that no dirt particles remain on it. Put a few drops of oil on a cotton cloth and start rubbing it into the surface in a circular motion. Scratches will begin to disappear literally before your eyes. If you have dark parquet, you can add a few drops of red wine vinegar to the oil.
The same method can be used for scratches on wooden furniture. But the life hacks don't end there, because there are many more types of flooring.
How to restore vinyl flooring
These synthetic materials, despite their great durability, can also get scratched. You can reduce them with a furniture wax polish.
Prepare the surface by cleaning it, and then gently polish the area to be treated with a dry sponge or microfibre. Next, use the same microfibre or paper towel to apply a little wax paste and rub it in in a circular motion. Then gently remove the remaining wax paste and polish the treated area to a shine.
This method will repair minor damage. Unfortunately, deep scratches on vinyl require professional restoration.
Floor polishing liquid
You can make your floor shine and reduce scratches with a special cleaning liquid. To make it, you will need:
5 litres of warm water;
30 ml of tea tree essential oil;
100 ml of apple cider vinegar.
Vacuum and wash the floor, and then treat it with this liquid using a regular mop. Allow the surface to dry and admire the shine, just like on the first day.
Other ways to clean your floor
All of these options are suitable for the care of parquet restored with vegetable oil. They will help to gently fight stains.
Vinegar works well for greasy stains. Add a little distilled vinegar to the washing water and wipe the stained areas. But do not overdo it with the concentration - vinegar can destroy the protective floor covering.
You can also use mild laundry soap to clean parquet floors. Dissolve a small amount in the washing water. But this recipe is not suitable for varnished floors.
Earlier, OBOZREVATEL talked about a way to quickly clean the floor from fine dirt without a vacuum cleaner.
Subscribe to OBOZREVATEL's Telegram and Viber channels to keep up with the latest news.