Trending:
How to get rid of mould on the walls: folk methods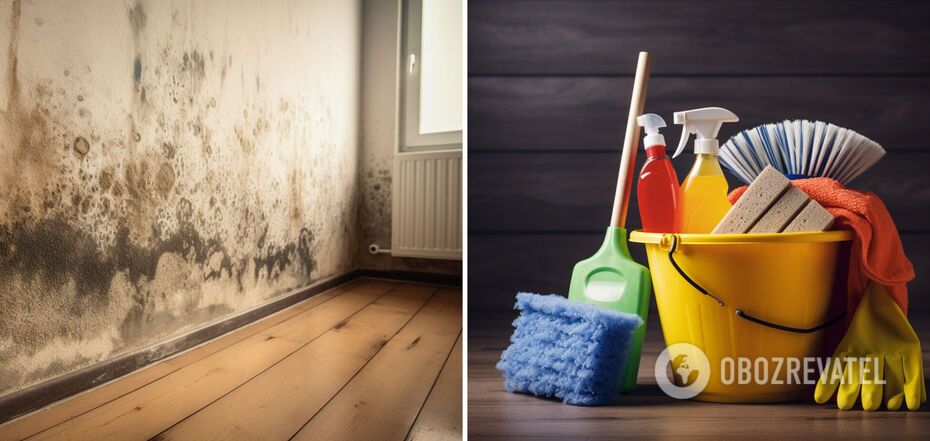 Vinegar and alcohol will help remove mould
Mould on the walls is a problem that appears due to excessive humidity and is quite difficult to deal with, because the fungus often settles not just on the surface, but in the smallest recesses of the surface. It is very difficult to get it out of there. But there are fairly eco-friendly home remedies that can help.
As OBOZREVATEL found out, liquids that are constantly used in the household will help. We are talking about vinegar and alcohol - ethyl and ammonia. They will help to curb the fungus.
Vinegar
In case of a mild lesion, vinegar can be diluted in equal parts with water, in case of a severe lesion, it can be used in its pure form. Pour the liquid into a spray bottle and treat the wall with traces of fungus. After an hour, when the vinegar has worked, the surface is wiped with a damp sponge or napkin. It is better to repeat the procedure several times to consolidate the effect. The optimal interval between treatments is 7-10 days. Vinegar is best used in well-ventilated areas due to its specific smell.
Alcohol
It is better to apply pharmacy ammonia at a concentration of 10% to the wall. It can be used to treat walls in all rooms, including bathrooms and kitchens, and can also be applied to plastic, glass or ceramic tiles. Dilute ammonia with water in a 1:1 ratio and spray the mould-damaged wall with the solution from a spray bottle. The product is allowed to dry completely, then the wall is wiped with pharmacy ethyl alcohol.
Earlier, OBOZREVATEL told how to get rid of mould and limescale in the shower.
Subscribe to OBOZREVATEL's Telegram and Viber channels to keep up with the latest news.