Trending:
How to dress to make your legs look longer: 5 fashionable life hacks that work wonders. Photo.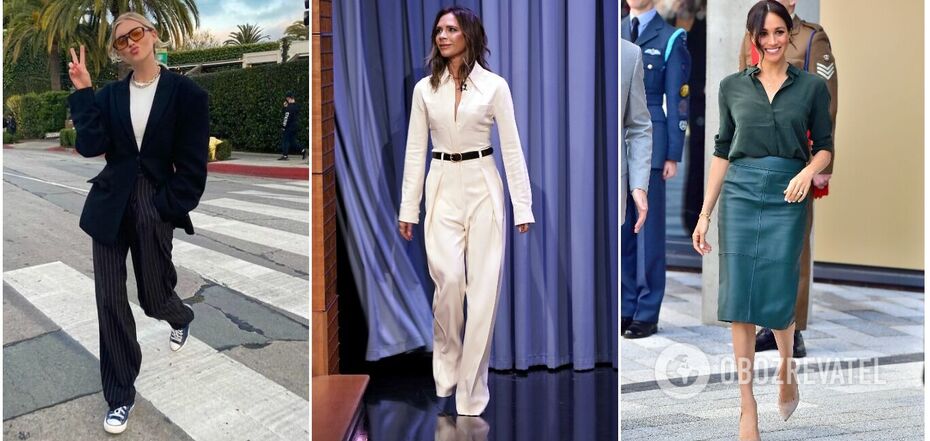 How to dress to make your legs look longer
Short girls know what it's like to take their jeans to a tailor immediately after buying them to have them shortened to the right length. They know how to invisibly tuck a skirt in at the waist so that it is not too long. They are also immune to fatigue from wearing high heels. All of this knowledge and skill is certainly invaluable, but what about effective fashion life hacks that will help you visually lengthen your legs?
These techniques have long been used by the world's famous "inchworms". For example, Victoria Beckham, who is a style icon for a million of her fans. OBOZREVATEL will tell you about five fashion tricks that literally work wonders for the length of your legs.
Shoes in the colour of your skin
High heels will certainly add centimetres to your height, but it will be more effective to wear shoes in a colour that is as close as possible to your skin tone. This "optical illusion" will visually lengthen your leg. Nude pumps will work best with bare legs, and if you are wearing black tights, you should also wear black shoes.
Trousers "eat" shoes
If you analyse all of Victoria Beckham's outfits in trouser looks, you will notice that she always wears very long trousers that literally drag on the ground and completely cover her shoes. This is a very effective life hack that will visually make your leg look longer. Give preference to high rise trousers.
Verticals on the legs
The correct use of prints solves many problems. For example, vertical stripes below the waist work real magic even with very short legs. The American socialite Olivia Palermo wears vertical-printed trousers and skirts so often that we can be 100% sure of the effectiveness of this life hack. It is very important to avoid horizontals in this matter. Notice that Olivia's skirt "covers" her ankle boots. That is, there is no "bald spot" between the hem and the shoes, which could spoil the whole wow effect.
The point from which the legs "grow"
It's quite trivial and simple: to make your legs look longer, raise the point from which they "grow" as much as possible. In our case, it's the waist. By the way, as a bonus, if you wear high-waisted jeans, skirts, etc., the silhouette becomes more feminine and sophisticated. Compare two images of actress Keira Knightley. In the first photo, where she is wearing heels, her legs look much shorter than in the second, where she is wearing low heels. The fit of the trousers makes a big difference.
Sometimes you have to hide your buttocks
Owners of not only short legs, but also a rather voluminous bum, will have to make sacrifices and hide their buttocks in favour of "lengthening" their legs. The fact is that anatomical bulges make the point of growth of the legs obvious and it will not be possible to increase it with the help of a high waist. Therefore, it is recommended to cover the buttocks with an elongated jacket or cardigan.
Earlier, OBOZREVATEL wrote about three mistakes in choosing clothes for short women. These things will "shorten" your legs and add extra pounds. To protect yourself from fashion failure, read our article.
Only verified information is available in our Obozrevatel Telegram channel and Viber. Do not fall for fakes!